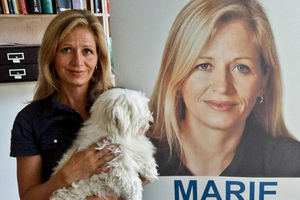 A Danish politician who called the powhiri "uncivilised" and "grotesque" says the meaning of her comments in a newspaper column were lost in translation.
Marie Krarup, a member of the far-right Danish People's Party, told TVNZ's Breakfast show her comments were incorrectly translated.
"I spoke to a New Zealand journalist this morning who speaks both English and Danish and he told me that the reason why people have been so offended is because it has not been correctly translated in the first place.
Ms Krarup was in New Zealand as part of a defence delegation, and was welcomed into the navy's te Taua Moana Marae last month.
She allegedly wrote in an opinion piece in the Berlingske Tidende, a Copenhagen newspaper, that the powhiri was less than civilised.
Ms Krarup said this morning she was sorry New Zealanders had been offended by her comments.
"The first English versions were very offending and I'm sorry about that, but I did not do the translations," she told TVNZ this morning.
Ms Krarup confirmed she had received a briefing about the nature of the powhiri before the ceremony.
She said it was her duty to her voters to write about her experiences in New Zealand.
Despite her apology, Ms Krarup continued to describe her experience of the powhiri by using derogatory terms.
"If you compare it to Western civilisation, dancing and screaming like the Maori culture dance is kind of grotesque."
When asked why she had apologised and then continued to describe the powhiri as "grotesque", Ms Krarup said:
"To me it looked grotesque. It looked very strange with a man who was half-naked and in a grass skirt and who put his tongue out and was screaming. That is strange."
She said she would not be offended if a New Zealander called a Danish custom grotesque.
"If a Maori person visited Denmark I am sure he, or she, would find it completely grotesque."
She said she had tried to be "humanistic" in writing about her experience of the powhiri.
Read more: Dane hadn't done homework