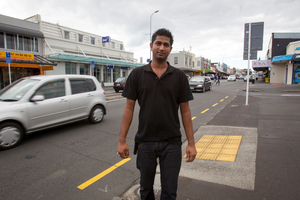 Diners watched in horror as a teenager crossed a busy street and was hit by a car whose driver failed to stop and is still at large.
Police said last night they were still seeking the driver who struck the 15-year-old boy on Dominion Rd about 5.45pm on Saturday night.
The teenager was rushed to Auckland City Hospital with grazes and was kept overnight before being discharged yesterday.
The accident happened on a stretch of road in front of diners sitting by the upstairs window in the Valentines restaurant.
Manager Raj Shah, 25, said a couple were shocked when they saw the accident unfold.
"They actually saw the guy running and get hit by the car ... there were two guys sitting on the bus stop. One of them ran right across the road, and he got banged by the car."
A shoe belonging to the victim was left lying on the concrete divider in the middle of the road as paramedics tended to him.
About six police cars blocked off the road between Ewington Ave and Bellwood Ave.
Yesterday, Sergeant Paul Black of Avondale said they would examine CCTV footage to try to identify the vehicle and driver.
A couple of witnesses had been spoken to, but police were keen to speak to any others.
Mr Black said the teenager had left hospital yesterday afternoon and was being cared for by family.
"He was quite lucky. He's recovered a reasonable amount. He's just suffered some fairly serious grazing to his body and head."