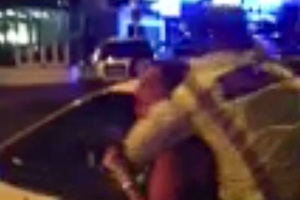 Police have defended the actions of an officer accused of injuring a woman in a scuffle during an arrest that has resulted in a complaint to the Independent Police Conduct Authority.
Melissa Hartley claimed an officer was too rough when he grabbed her by the neck near a taxi rank in Tauranga on Friday night.
The 29-year-old veterinary nurse said she was left with bruises and a head gash as a result.
However, police say the laceration to her head happened when she was pulled to the ground by a friend who grabbed her as he was being arrested.
Ms Hartley spent the night in police cells and was released on Saturday morning with an official warning after allegedly threatening police.
Her friends, 50-year-old currency trader Richard Hunter and 49-year-old architect Mark Tatton, were charged with resisting arrest and assaulting police as a result of the incident.
Hunter said they had video footage of Ms Hartley's arrest and witnesses who would testify to what they claimed was unnecessary force used by the officer who arrested her.
The footage, taken on a mobile phone, shows Hunter stepping in to try to pull Ms Hartley away from the officer after she is grabbed.
Acting Senior Sergeant Cameron Anderson said Hunter became obstructive and interfered with the arrest and subsequently put "his hands around the throat of the arresting officer".
It's alleged Tatton pushed the arresting officer twice before trying to avoid being arrested himself by grabbing on to Ms Hartley.
Mr Anderson said Tatton caused Ms Hartley to be pulled over a railing and hit her head on the ground.
Mr Anderson said police were transparent in their arrest of the trio on Friday night.
"Staff are obviously aware we're viewed by the public to have to be whiter than white," Mr Anderson said.
"Staff act in a professional way [and] if members of the public believe they have been unfairly treated there are courses they can take to have that investigated.
"The footage is all very well and good, however, we only get the short version of it."
Hunter said it was "completely excessive use of police force".
"[Ms Hartley] had to receive medical attention in the police cells with a lacerated head and neck injuries from this incident. It was complete excessive use of police force against a woman."
Hunter said he would defend the charges against him.
Ms Hartley said she was in constant pain" and in shock after the incident.
The trio had been arguing with a taxi driver over the fare when police became involved.
- APNZ