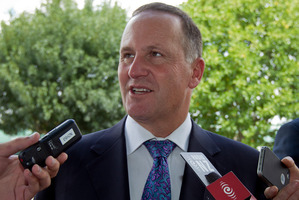 Prime Minister John Key will not rule out New Zealand joining a war in Korea, if the current crisis ends in armed conflict.
"Taken to the extreme and without interventions and without some resolutions of the issues, that is of course possible," he told New Zealand reporters in China.
"Obviously we've got a long and proud history of coming to the support of South Korea so we'd always assess that on its merits. The big hope is it doesn't get to that point."
He expected there would be an enormous amount of international diplomatic pressure brought to bear on the rogue state to ensure the crisis didn't end in war.
In a meeting late yesterday with President Xi Jinping of China, Mr Key acknowledged Beijing's leadership role in trying to de-escalate the threats of war by the new and volatile North Korean leader Kim Jong Un.
China had the best links into North Korea and was "genuinely and strongly" sending the message to North Korea that their threats of war were provocative and destabilising.
"We all have skin in the game here," Mr Key said, but China was the most influential.
After the meeting, Mr Key said the gravity of the North Korean issue was not lost on Mr Xi. "His words were they are totally committed to peace on the Korean Peninsula."
In his opening remarks, Mr Xi referred to NZ as an "old friend".
Later, Mr Key told reporters the President was "a thoroughly nice bloke and you could actually imagine yourself sitting down and having a beer with him".
"He is really engaging. He is really warm. He remembered the dinners we've had together. He said, 'Look, you're an old personal friend', and it doesn't get much better than that from a Chinese President."
In a surprise outcome of the talks, the leaders agreed that officials would look at allowing direct conversion of the NZ dollar to the China renminbi for exporters rather than having to go through other currencies such as the US dollar. It would save in costs if New Zealand exporters could set their prices in renminbi.
Mr Key said he had raised the issue of Chinese investment and told his host that "in the sensitive issue of land sales, that's not something we want to engage very much in".
"He [Mr Xi] totally understood that. They like the fact that what we say, we do, and what say, we mean. That's the kind of relationship we are building. It's one of respect, where we can respect each other's position."