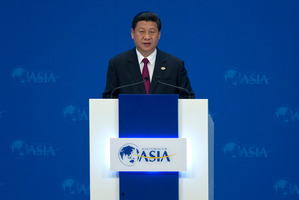 President Xi Jinping of China could be forgiven for splashing out a little bit yesterday in the banquet he and his glamorous wife, singer Madame Peng Liyuan, hosted for special guests in Bo'ao, including Prime Minister John Key.
It was his first opportunity since taking over the helm of the largest country in the world to host an array of world figures as one of the most powerful leaders in the world.
But excess is not his style. In the short time since Mr Xi was anointed as leader in November, he has embarked upon a campaign to eliminate the culture of excess in party officials, the copious array of dishes at banquets for officials and endless rounds of moutai [local liquor] toasts.
The shorthand for his drive has been "four courses and a soup", by Chinese standards a very modest meal, and the catchcry has been "order according to one's needs".
The slogan emerged after the President had a well publicised spartan meal in Hebei province in December comprising only braised chicken, stir fried pork, garlic shoots with chrysanthemum stems, local Fuping stew, and pork and melon soup.
The menu for the lunch hosted by President Xi and Madame Peng was a suitably restrained affair of three courses and a dessert: Fish ball soup, lobster claw in seafood sauce, grilled beef steak in mustard sauce and braised asparagus in chicken sauce and for dessert, pastries, fruits and ice-cream. The campaign is popular with ordinary people and it has done Mr Xi's standing among ordinary people no harm at all.
Mr Xi, who turns 60 in June, is more charismatic than his predecessor Hu Jintao whose formality was rarely breached.
Mr Xi speaks English, and is said by John Key and Bill English to have a great sense of humour.
He is the son of Xi Zhongxun, one of the founding fathers of the Communist revolution with Mao Zedong, who went on to become a vice Premier. His wife of 25 years looks set to become the classic western style "first lady" attracting huge attention for her fashion and charity work.