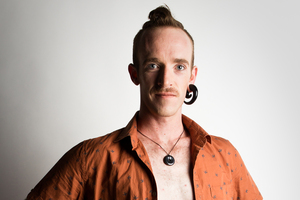 By day, Douglas Seivers Jarrett is a suit-wearing accounting intern. At night he pulls on his ballet shorts and singlet and transforms himself into a gravity-defying pole dancer.
Jarrett is preparing to compete at the first Mr Pole Dance Championships in Sydney at the end of May and he shrugs off any negative comments - once people see his pole dancing, they tend to be more impressed than dismissive, he says.
"Male pole fitness is the new 'in' thing. Body builders come to me to slim down for competition."
It is slowly catching on with Kiwi blokes, says the 30-year-old, who runs boutique Palmerston North circus school Cicro Acrofit.
"My oldest male student is in his 50s ... It's highly addictive.
"It's bigger than body building because we are lifting our entire body weight for up to two hours at a time."
Besides instructing students in the art of pole-dancing, Jarrett also teaches other forms of acrobatics.
His desire to turn his world upside down on a pole started in his teens.
"I wanted to join Greenpeace when I was 15 and mum said I'd have more chance of joining the circus. So I started doing circus stuff, while taking economics and accountancy papers at school. And I joined Greenpeace."
The Mr Pole Dance competition requires three five-minute routines competing against 17 others selected from about 500 hopefuls who submitted audition videos.
The competition doesn't carry a big cash prize, and Jarrett is looking for a sponsor.
"I think there's a sash and a small crown. Not that I'm too concerned about the crown, but the sash would be great. I would rock a sash everywhere," he said.
Fellow Kiwi Andre Corey of Wellington is also going to the competition.