A single West Auckland street is studded with nine traffic lights within a one kilometre stretch.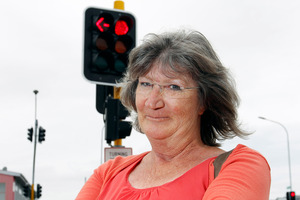 Nine sets of traffic lights in 1km - it's enough to drive motorists around the bend.
Auckland Transport traffic systems manager Ken Lee-Jones says a 1km stretch of road in the West Auckland suburb of New Lynn is likely to have the highest number of traffic lights in one city thoroughfare, maybe the country.
The pulsing promenade of red, amber and green lights runs along Clark St and Great North Rd between Portage Rd in the east and Rata St in the west.
Lee-Jones also found sections of Quay, Victoria and Albert Sts, in downtown Auckland, had seven sets of traffic lights across a 1km distance.
Titirangi grandmother Annette Mann told the Herald on Sunday she wasn't surprised by New Lynn's dubious honour.
The 62-year-old does her shopping in the suburb and the lights were a frequent topic in her household, particularly around the danger of elderly drivers being confused about which signal to follow when the lights were so close together.
"It's stink. The whole piece of this road is visually complicated for the elderly. My husband feels the same, everybody feels the same."
Mum-of-two Toni Jobson has her own remedy - she avoids Clark St, where the bulk of the lights are.
"I know it's just light after light so I go through the back, by the gym, to get to the supermarket."
Jobson, 39, lives on the western side of New Lynn and said she disliked using the road so much that she no longer shopped in central New Lynn.
She isn't alone. Supermarket worker Lynne McKay has lived in New Lynn for 15 years and has long changed her habits to avoid Clark St.
"I must admit I try to find a different route. We all do."
Auckland Transport spokesman Mark Hannan said the New Lynn lights were linked so traffic could move through with a minimum amount of stops. "Priority is given to the peak flow direction and to public transport."
He said traffic signals were the best way of controlling traffic on arterial routes with several conflicting traffic movements, such as pedestrians and vehicles coming from side streets.
He said roundabouts were expensive, required wider roads and became congested during peak times.