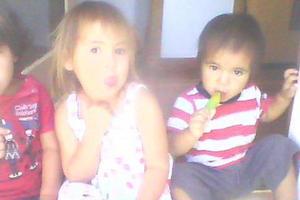 A hero first aider has described the moments he thought a three-year-girl had died after she was pulled from a horrific car fire in Gisborne.
John Humphris was one of the first at the scene after Manaia Namana-Rowe, three, and her brother, 22-month-old Rious Namana-Rowe, were pulled from the burning car, which was parked in the Supercheap Auto car park.
The children had been left in the car by their mother, known as Fatty Namana, who had gone into the shop.
It was believed the blaze was sparked by one of the children playing with a lighter.
The pre-schoolers were pulled unconscious from the flaming car on Thursday by members of the public who then performed life saving CPR on them.
Last night Manaia was transferred from Waikato Hospital to Auckland's Middlemore Hospital and a spokeswoman said she had undergone surgery overnight and was in the intensive care unit.
Rious remained in a critical but stable condition at Waikato Hospital with his mother Fatty at his bedside.
Mr Humphris was instrumental in reviving Manaia and sucked the soot out of her throat to clear her airway and get her breathing.
"She had been taken out of the car when I arrived and was laid on the footpath under a nearby shop awning," he said.
At that point it appeared the rescuers might have thought she had died, he said.
"I checked her vital signs, picked her up and cleaned out her airway.
"I could see her mouth and throat were blocked with soot from the fire, so I sucked the material out and gave her two breaths.
"She started to breathe again then stopped, so I gave her two more breaths and she came round," Mr Humphris said.
Mr Humphris felt an overwhelming sense of relief to see life come back into her.
"I could see the recognition in her eyes. It was an awesome feeling."
He provided first aid advice that helped with the revival of the little boy.
"I had a sleepless night Thursday. The acrid taste of the soot I'd sucked out of the girl stayed with me all night.
"Everyone involved did an awesome job."
Mr Humphris had been a first aid instructor with mountain safety for 20 years.
"All that training paid off."
A staff member from the nearby liquor store arrived with an armful of water bottles which we used to cool down the burns the children had suffered.
Two other men had key roles in the rescue- SuperCheap Auto assistant manager Cole Blair tackled the fire with extinguishers from the store.
He rushed outside as soon as he heard the car was burning and alerted the children's mother, who was in the store.
Witnesses said it was not until she came out of the store that rescuers realised there were children inside the car - there was so much smoke.
"I managed to get most of the fire out. It was certainly a really horrific thing for everyone involved," Mr Blair said.
Gisborne's Detective Sergeant Theo Akroyd said the inquiry into the cause of the fire continued.
"We are still investigating how the fire started. The car was examined yesterday," he said.
"There was a shortened version of a barbecue-like lighter found in the back seat but we are not prepared to say this stage that it was definitely used to start the fire," he said.
"We are still to interview the children's 22-year-old mother, who is with her baby son at Waikato Hospital."
Mr Akroyd said Child, Youth and Family was also part of the investigation.
The New Zealand Fire Service is calling for stricter laws around the sale of barbeque-type lighters because they were not covered under current legislation.
Gisborne fire safety officer Derek Goodwin said matches and lighters were tools, not toys, and they should be kept out of the sight of children.
"Young ones have a curiosity with this type of thing and out-of-sight, out-of-mind is the right thing for parents to do."
- Gisborne Herald, additional reporting by APNZ