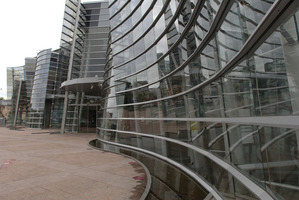 Repairs are about to start at Christchurch Art Gallery.
The Christchurch City Council is ready to call tenders from specialist contractors, the first for repairing the building foundations.
Though the building performed well during and after the earthquakes two years ago, liquefaction under the gallery has bent its foundations and the floors are no longer level.
The building will be lifted, foundations re-levelled, the base isolated and the facade and interiors repaired.
The gallery is expected to reopen in the first half of 2015.
Meanwhile, more of Christchurch's inner city is now open to pedestrians.
For the first time since the 2011 February earthquakes Cantabrians are able to walk Colombo Street from Hereford Street to Lichfield Street.
The road is open to pedestrians only until April 20 to allow the installation of a new artwork on the walkway spanning The Crossing and Ballantynes.
Even then the road will remain pedestrian friendly with painted road surfaces and colourful planter boxes visually narrowing the road, and traffic restricted to 30 kilometres per hour.