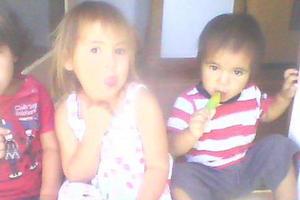 Two pre-schoolers who were trapped in a burning car in Gisborne remain hospitalised in a serious condition.

Manaia Rowe, 3, was flown last night to Middlemore Hospital's burns unit and remains in a critical condition, while her 22-month-old brother, Rious, was in a critical but stable condition at Waikato Hospital.

The pre-schoolers were pulled unconscious from the flaming car on Thursday by members of the public who then performed life-saving CPR on them.

They suffered burns to 40 per cent of their bodies.

Their mother, known as Fatty Namana, is at Waikato Hospital and has thanked the rescuers at the scene in Gisborne who pulled her children from the car and the emergency services for their prompt response.

Witnesses at the incident said there was a small explosion and flash fire which produced clouds of black smoke.

The children had been left alone in the vehicle about 4.30pm in a carpark outside Super Cheap Autos on Gladstone Rd, the bystanders said.

It was believed the blaze was sparked by one of the children playing with a lighter.

Fire safety officials and police were investigating the cause of the blaze.

Station officer Ed Hindmarsh told Radio New Zealand it showed how dangerous it was for parents to leave their children alone in vehicles because of the "disastrous consequences''.

"I can strongly urge that people don't leave children ever around items that can cause fire because this is one of the worst outcomes that you can possibly imagine.''

But a friend of the childrens' mother has defended her for leaving the children in the vehicle.

The friend, Makailah Stehlin, said people shouldn't criticise Ms Namana for leaving her children for "a split second or longer'' because they don't know what she was going through.

Police say they've told Child, Youth and Family (CYF) of the incident and were yet to interview the mother.

The central regional director of CYF, John Langley, said this "tragic event'' showed what could happen if babies and young children were left without adequate supervision.

"We would advise anyone who comes across children left without adequate supervision to call the police.
When we are alerted to children being left unsupervised, we ensure the immediate safety of the children and work with the parents and wider family to ensure adequate arrangements are made in future.''

It was understood CYF had not had recent involvement with this family but has had in previous times.
- APNZ