Police check to see if colleague of slain road worker was gunman's target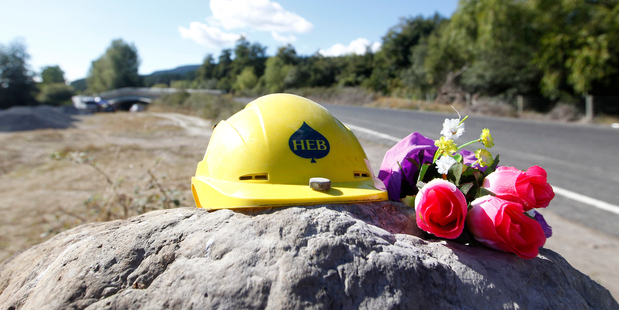 Police investigating the murder of roadworker George Taiaroa are examining the backgrounds of his colleagues, as residents in nearby Atiamuri believe his death could be a case of mistaken identity.
Inquiry head Detective Inspector Tim Anderson said the theory was one the 50-strong investigation team could not rule out.
"We (will) speak to all colleagues and we'll profile them and go into their backgrounds."
The investigation would include checks on criminal history or convictions.
Mr Taiaroa was shot dead on March 19 as he manned a stop-go sign at a single-lane bridge on a remote road south of Tokoroa, near the small settlement of Atiamuri.
Detectives profiled the backgrounds of Mr Taiaroa, his family, friends, colleagues and associated people in their search for a link that could provide a motive for his killing.
Atiamuri father and son Wayne and Leon McPhee said rumours were rife in the village, but they believed the murder was targeted or a mistake.
"It wouldn't be random," Wayne McPhee said. "There's two things: he's done something wrong and it's caught up with him, or it was a mistake, it was the wrong person."
It was reported yesterday that police had found the blue Jeep Cherokee central to the investigation, but Mr Anderson would not confirm this, saying only that police had made inquiries about several blue Jeep Cherokees "and are yet to confirm that any of those vehicles were involved in the shooting of George Taiaroa".
"We are still interested in any sightings of a blue Jeep Cherokee that may be of assistance to the investigation and still want to hear from anyone who has information about someone who owns a blue Jeep Cherokee who may be of interest to us."
HEB Construction and Goodmans Contractors have been rebuilding the State Highway 1 Atiamuri Bridge since late 2011.
Mr Taiaroa was one of several workers who lived in the village.
Pukeko and Bull tavern and lodge owner Tina Schrider, who rents accommodation to some of the workers, said Mr Taiaroa's colleague at the eastern end of the bridge that day had admitted he was scared it could have been him killed.
"He's not sleeping at night ... There but for the grace of God go I."
Police say Mr Taiaroa, who had no criminal convictions and has been described as a "loveable teddy bear", was working at the location on Tram Rd, near the Kinleith Forest, all day.
The shooting happened at 3.10pm, about 25 minutes after Mr Taiaroa returned to his position at the western end of the bridge after a lunch break.
Unconfirmed reports suggest a conversation took place before Mr Taiaroa fell to the ground and the Jeep sped away over the bridge.
The last confirmed sighting of it that afternoon was on Barryville Rd, near the Pureora Forest tracking west towards Benneydale, leading police to believe the killer had some knowledge of local forestry roads.
Police have not found any evidence in Mr Taiaroa's background to suggest the shooting was drug- or gang-related.
"We know from our experiences in crime sciences that crime isn't random," Mr Anderson said. "There's generally a motivation, whether it's need, greed or otherwise. Usually an emotive response to something."
But without knowing a motive, it was still unclear whether the shooting was random or targeted.
The murder weapon had not been recovered, but police know what type of gun it was and are keeping that detail under wraps for now.
Mr Anderson said police were tracking down every blue Jeep Cherokee in NZ. They were keeping the number of these vehicles confidential.