Police chief regrets Bruce Hutton only ever associated in public's mind with Arthur Allan Thomas case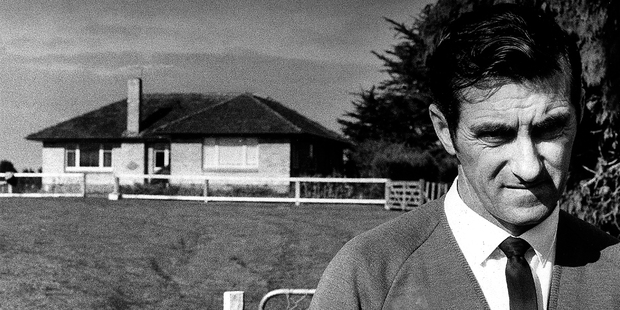 A royal commission found Bruce Hutton planted evidence on the Crewe murders for which Arthur Allan Thomas was twice convicted. Photo / NZ Herald
The long arm of the law reached out to offer comfort and support to the family of Bruce Hutton, the retired detective inspector vilified for planting the evidence that twice convicted Arthur Allan Thomas.
Deputy Commissioner Mike Bush paid tribute to Mr Hutton at his funeral in Auckland yesterday.
Mr Bush told about 200 mourners at Ellerslie Racecourse: "The police family never forget its members - regardless of how long they have been retired."
Mr Hutton's 20-year police career ended in 1976 as questions arose over the inquiry into one of New Zealand's most infamous unsolved murders. Harvey and Jeannette Crewe were shot dead at Pukekawa in 1970.
Local farmer Arthur Allan Thomas was convicted at two trials of murdering the couple before being pardoned. A royal commission of inquiry later named Mr Hutton and another officer as responsible for planting the bullets that led to the convictions. Police unsuccessfully challenged the finding.
Mr Bush's comments come as police prepare to complete a two-year review which includes formal criminal complaints from the Thomas family seeking an investigation into the planting of evidence.
Mr Bush described Mr Hutton with a quote from 1968, when he was promoted to the rank of inspector just before the Crewe murders. "His integrity is beyond reproach," according to a senior officer at the time - an "appropriate" quote, said Mr Bush.
"We all know despite the length and depth of Bruce's term with us in the police, in the public eye he is only associated with one case. It is a great tragedy and irony that a man of such great character should have been subject to those accusations."
Former detective Norm Sowter said accusations against his friend were "so untrue and totally unsubstantiated". He singled out the media and former police officer and MP Ross Meurant, who worked on the inquiry, for driving the criticism. He did not name Mr Meurant directly, but said Mr Hutton was most hurt by comments from "the ex-police officer who has ... prided himself on being the go-to critic on anything against the police or the police force".
Mr Sowter said Mr Hutton became "extremely frustrated with the political interference and the narrow terms of reference set down for the subsequent commission of inquiry". He said it meant Mr Hutton was unable to introduce "crucial evidence".
"Since Bruce's death there have been individuals demanding [former detective] Len Johnston and Bruce should have been charged based on the findings of this commission and accusing the police of always protecting their own. But the facts are that the commission findings were thoroughly investigated - not by the police, but by the Solicitor-General, who found there was insufficient evidence to charge any police officer."
A police headquarters spokesman said remarks by Mr Bush had no bearing on the review into the Crewe case. The review was being referred by police for independent legal review.