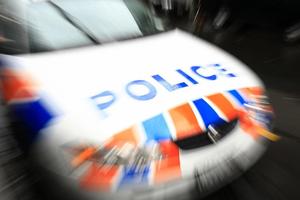 A man who prompted an armed offenders squad call out by saying he had an 2.4m-long long spear and sword as well as a hand gun and any police officer who entered his home would "get it", appeared for sentencing in the Alexandra District Court yesterday.
Gary Keith Wright (48), of Alexandra, admitted two charges of threatening to kill Alexandra police officers and using a phone to maliciously transmit communications with the intention of offending the New Zealand Police, at Alexandra on November 30.
He appeared before Judge Stephen Coyle and was sentenced to a total of 10 months' community detention on the threatening to kill charges and convicted and discharged for misusing a phone.
Judge Coyle said Wright was drinking with a friend and had no recollection of the incident. Wright had phoned for an ambulance that evening and the call was forwarded to the police. He told police he "wanted to go out like in the Napier siege."
Armed police from Alexandra and Cromwell and the armed offenders squad from Dunedin, were called to Wright's home. The defendant eventually surrendered himself to police and a spear and sword were found on the property, but no gun, Judge Coyle said.
Wright's offending spanned 32 years but it was recently discovered that the abuse Wright received as a teenager had resulted in him developing an anxiety disorder and he drank to block out the memory of that abuse, Judge Coyle said.
The defendant said he had "hit rock bottom" when a policewoman with a taser entered his house. He was determined to make a new life for himself and stop drinking.