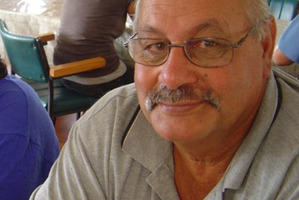 Detectives hunting the killer of roadworker George Taiaroa are investigating new leads after an appeal on TV show Police Ten-7 last night.
Officers had about a dozen calls from members of the public as they attempt to find whoever gunned the family man down as he controlled traffic with a stop-go sign in the Kinleith Forest area of south Waikato last month.
Detective Inspector Tim Anderson said: "It shows there is still more information out there that could assist the investigation. We've been pleased with the steady stream of information provided by the public to the team; every piece of new information allows us to progress this investigation."
Police are particularly keen to track down a blue Jeep Cherokee seen at the scene at the time of the shooting but denied a report this morning that they had found the vehicle.
"The truth of the matter is we're speaking to people with Jeep Cherokees every day and persons of interest to the inquiry," Mr Anderson said.
Shortly after the shooting Mr Taiaora's family made an impassioned television appeal and they said they could not understand why anyone would want to gun him down.
His daughter Rochai said her father did not have a bad bone in his body.
"Dad didn't like conflict, he didn't attract anger. I actually don't even remember my dad growling me, ever. He was the sort of guy that would stop strangers on the side of the road and start talking to them and be their friend for the rest of their life. And this is the absolutely confusing part of this. That's actually really the hardest part."
His wife Helen says there could be no reason for anyone to kill George.
"If they wanted to achieve destroying a family they've successfully done whatever was in their minds to do that."
Anyone with information is asked to contact the investigation team on 0800 Kingswood (0800 546 479) or Crimestoppers, anonymously, on 0800 555 111.
- APNZ