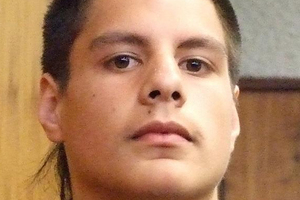 A judge has slammed a Clyde teenager for using a hot cigarette lighter to give a drunk partygoer two "smiley" brandings on his face.
In the Alexandra District Court, Judge Stephen Coyle said the court would not tolerate drunk people being scarred for life and it was concerning to learn branding was a ''widespread practice'' in some circles.
"Why you think it's a joke to physically assault someone and scar them for life is beyond me," he told 17-year-old Daniel Trevor Nelson, of Clyde.
Nelson was appearing yesterday for sentencing for injuring a 16-year-old boy with reckless disregard and a Crimes Act assault on a 15-year-old girl at parties in October or November last year, after "branding" them with a cigarette lighter.
He was sentenced to four months' community detention and intensive supervision for a year.
Judge Coyle said he was concerned to hear through Nelson's counsel, Justine Baird, that this type of activity was "widespread" and generally done when the victims were so drunk they were unaware of what had happened.
"You and the social circle you operate in need to take a long look at yourself," he told Nelson.
Miss Baird said it was a reasonably common practice carried out by young people over the years and the scar was known as a "smiley" because of its shape.
The defendant and victims had been drinking before the incidents and Nelson said he was "cajoled" by others to carry out the practice, she said.
Nelson agreed his behaviour was "unacceptable".
Judge Coyle said the male victim fell asleep after consuming a large amount of alcohol and Nelson "repeatedly" pressed a heated cigarette lighter into the boy's face. The boy woke up but was so drunk he did not know what had happened.
The victim was left with two scars on his lower right cheek and the incident had "changed his life for the worse", the victim impact statement said.
At another party, Nelson placed a heated cigarette lighter on the thigh of the female victim. He later said he used a cigarette and "simply grazed" her leg, but had admitted the charge, Judge Coyle said.
Fortunately, her scar had faded. In her victim impact statement, she said she hated the defendant and was scared of him.
The defendant appeared to show no remorse and had given no thought to any possible consequences of his actions, Judge Coyle said.
Nelson also admitted a charge of intentionally damaging fences, vehicles, signs and roadways in Clyde on October 27 last year.
The representative charge arose after a spate of graffiti in the town. Nelson admitted causing four incidents out of the 22 reported to police but did not want to "take the can" for all the offending, Miss Baird said.
That matter has been remanded to May 1, to set a date for a disputed facts hearing.