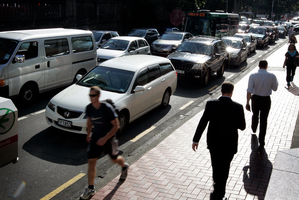 Aucklanders sitting in traffic this morning might not be surprised to hear the city is the third most congested in Australasia.
Mapping and navigation technology firm TomTom has just released its first congestion index, showing Auckland commuters spend 92 hours each year caught in peak hour traffic on average.
Christchurch commuters spend 76 hours a year in traffic.
TomTom spokesman Chris Kearney says some days in Auckland are worse than others.
"We've found that Wednesday evening and Tuesday morning are the most congested times of the week.
"This varies markedly to areas in Europe, where we have a lot of data, where it seems to be Monday and Friday."
Chris Kearney says there has been some good news.
"What we did see in Auckland and Christchurch was a decrease in congestion year on year, so the story is not good relative to other cities, but it is improving."
And there's good news for those driving to work today in particular, as Chris Kearney says Friday mornings are the best for traffic in both Auckland and Christchurch.
Sydney is the most congested city, followed by Perth.