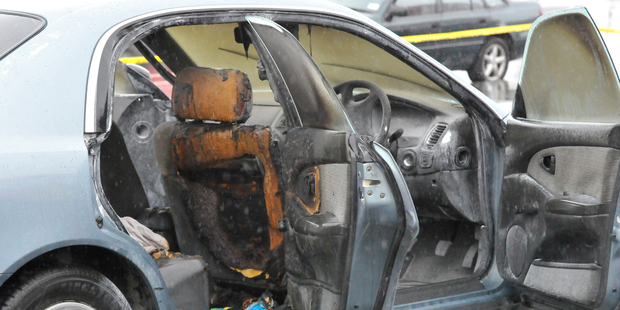 The Fire Service says a car fire in Gisborne that left two young children with life-threatening burns is a harsh reminder of why children should not be left alone in cars.
A three-year-old girl and her 22-month old brother are in Waikato Hospital's intensive care unit after being trapped in a burning car yesterday.
They were pulled unconscious from the vehicle by three men, who are being hailed as heroes.
There was a small explosion and flash fire which produced clouds of black smoke, witnesses said.
The children were flown to Waikato Hospital's intensive care unit from Gisborne Hospital overnight, with burns to 40 per cent of their bodies, a hospital spokeswoman said.
Their condition this morning was still critical.
Witnesses say the children had been left alone in the vehicle about 4.30pm yesterday in a carpark outside Super Cheap Auto on Gladstone Rd.
It was believed the blaze was sparked by one of the children playing with a lighter and setting fire to the back seat.
Station officer Ed Hindmarsh said the fire was being investigated.
He told Radio New Zealand it showed how dangerous it was for parents to leave their children alone in vehicles because of the "disastrous consequences".
"I can strongly urge that people don't leave children ever around items that can cause fire because this is one of the worst outcomes that you can possibly imagine."
A staff member at Supercheap Auto in Gisborne saw smoke pouring from the locked car and made a call over the public address system.
The children's mother than rushed out of the store to unlock the car, which was when members of the public realised children were trapped inside.
A Supercheap Auto employee said she was "totally hysterical and traumatised".
Mutu Ngarimu, who runs a business alongside the Gladstone Rd carpark, saw the burning car and rushed out with a fire extinguisher.
It was not until the fire was out that Mr Ngarimu noticed a child inside the car.
"There was a little girl in there, so I pulled her out and a member of the public performed CPR on her."
He then saw the little boy.
"I went back into the vehicle to see if anyone else was in there and that's when I noticed the 22-month-old in there, so I pulled him out and he was unconscious."
Two men working across the road at Firestone Tyres also dashed to help.
Mr Ngarimu revived the boy while another man resuscitated the girl.
Once revived, the children were coughing and crying and had "serious burns", Mr Ngarimu said.
"They had some pretty serious injuries. One of the children - the older sister - had some serious injuries, burns.
"It's very sad and definitely something you don't want to see a child go through. I just hope the kids pull through."
He told Radio NZ it was a "team effort" to save the children.
"People didn't just stand around not knowing what to do, we just got in and did it. And even when we had pulled the children out there were people coming out with bottles of water to try to bathe the children and cool them down."
John Spawforth, who works at The Mill beside Supercheap Auto, said the three men were "absolute heroes".
"They were the ones who sprinted across the road, put the fire out and dragged these kids out ... I ran out with two things of water to pour over the children.
"It was horrific. Their skin was hanging off them," Mr Spawforth said. "The mother was just standing in the carpark bawling her eyes out."
St John district operations manager Stephen Smith praised the work of the witnesses who rescued the children, and said they may have made the difference in saving the children's lives.
"From our point of view, removing the children from the fire and providing that initial first aid has contributed greatly to their care."
Fire safety officials and police are investigating the cause of the blaze.
CHILDREN LEFT ALONE
* A newborn baby was left in a car in the carpark of the Porirua Pak'nSave supermarket last month with a note to call the mother's mobile number if there were any issues.
* A man was fined $300 yesterday after a 14-month-old boy was found abandoned and crying in a pram at 3am on a Christchurch city centre street last week.
* A mother and father were convicted after leaving their five children in a parked van while they gambled at Auckland's SkyCity Casino in February last year.
* A man who left his 18-month-old son in a car outside a Wellington strip club was fined $200.
- NZ Herald with APNZ