Olympic gold medallist will liaise with corporate partners and stakeholders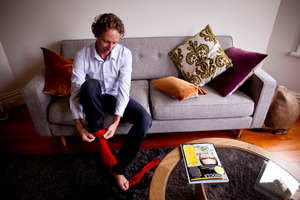 Olympic gold medal-winning triathlete Hamish Carter is the new face of the Sir Peter Blake Trust.
Carter beat about 80 applicants to the job, which will see him liaising with corporate partners and stakeholders and dealing with sponsorship.
The trust was established in 2004 as a way of carrying on Sir Peter's leadership work and interest in the environment following his death in 2001.
Carter, 41, won a gold medal in the triathlon at the Athens Olympics, in 2004. Two years earlier he picked up the bronze at the Commonwealth Games in Manchester.
He retired as an athlete in 2007 but has maintained his involvement in sport in other ways: as a board member of High Performance Sport NZ and Spirit of Adventure Trust. He also founded SportConnect, which helps connect professional athletes with sponsors.
Carter said the role was exciting as it allowed him to continue to contribute to the world of sport in a different way.
"I think it's exciting because Sir Peter had a real can-do attitude. It's just about rolling your sleeves up or pulling up your socks - red socks, in this case - and getting down to it.
"The more New Zealanders that can be a part of that mindset, the more capable people will be of achieving anything."
The trust also has a focus on developing youth leaders - something Carter wanted to be involved in. He said Sir Peter had always been a great role model for him as a youth athlete and he wanted to help young people find their leadership potential.
"I guess when I grew up, New Zealand had a whole raft of successful Kiwis, but Sir Peter was one of the guys that really led the world stage.
"He made us believe that we could be world-class even if we were from a little country like New Zealand. I got to see that first-hand at the Olympics. People took notice when you said you were from New Zealand."
Trust executive Shelley Campbell said having a well-known athlete in the role was a huge bonus for the trust's cause. "In all honesty, Hamish wasn't chosen because of his link with sport, but more because of his qualities and his want to help young people. He also has a great interest in the environment and is a really proud New Zealander."