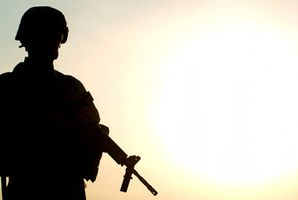 Chris Warr says when he was first deployed to Bamiyan in 2009, people were too scared to leave their lights on after dark, but things have changed.
The 24-year-old from Palmerston North is the only New Zealand soldier currently stationed at Kiwi Base to have been to Afghanistan twice.
In 2009, he was part of the the 15th rotation of New Zealand soldiers to serve in Afghanistan, Crib 15. He is now with Crib 21, the final contingent of Kiwis due to leave Afghanistan by the end of this month.
"I think now that the people are realising that the [Afghan National Security Forces] are well trained and it's making people feel a lot safer so they can keep their lights on, keep their shops open later. Last time I was here they would shut them come night time, except the odd restaurant being open.
"Now, if you ... cut out the sangars [fortifications] and barbed wire [at Kiwi Base] it actually looks just like a city.''
He saw groups of girls going to school every day, there was a sense of trust between the locals and coalition forces, and the ANSF had improved markedly.
"The ANSF and the police have definitely improved with how they interact with us. On Crib 15 they were not as willing to train as they are now. They know that we're pulling out so they've stepped up their game,'' he said.
There had been very little insurgent activity in the last five months he had been at the base, unlike on his first rotation when his squad was attacked on his first ever patrol.
"We got ambushed in the Shakari Valley. We'd been out for about three nights I think, just south of Do Abe, and on our way back we got ambushed with small arms and RPGs.''
The squad called for air support and fortunately no one was hurt.
"It was definitely an eye-opener. I came over here with the thought of just being a patrol signaller, providing comms for the patrol and driving around.''
Lance Corporal Warr's father and uncle have both served in Afghanistan, and his family have been going into conflict zones wince World War I.
He said he was excited to get back to New Zealand, although he anticipated getting itchy feet again.
"It's weird, when you come here you definitely get to the point when you're wanting to go back home. But when you get home you kind of miss being in a high-paced environment.
"I'd like to go to Sinai, see Egypt, and that side of things.''
- APNZ