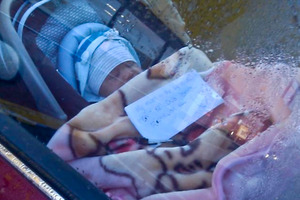 Police say they have not located the mother who left her newborn baby in a car while she went shopping because the person who discovered the infant never reported it to authorities.
The sleeping child was left in a car outside the Porirua Pak'n Save with a note to call a mobile number if there were any issues.
Strangers who found the child waited with it until its mother returned and a picture of the sleeping baby made news around the world last month.
Senior Sergeant Steve Sargent said officers had tried to find the mother but without information from those who saw the child it was almost impossible.
"Unless the person who actually rang the [mother] ... contacts us and gives us the phone number they rang, we really don't have any [leads]," Mr Sargent said.
"We haven't been able to track down the actual complainant. That's where the enquiry has drawn a blank."
Mr Sargent said if police were able to contact the mother it was still unlikely that she would face charges.
He said given the circumstances of the case, police were more interested in speaking with the mother as "an educational exercise".
"The kid could have choked," Mr Sargent said. "The fact that she had it wrapped up in a hot car, you never know what's going to happen."
Mr Sargent said he did not believe Child Youth and Family had been able to contact the mother either.
The man who spotted the baby on March 23 posted a picture of the child, along with the note, on social networking sites. He said he was shocked to see the hand-written note resting on the child's blanket.
"It was written from the baby's perspective, and it said, 'My mum's in doing the shopping, call her if I need anything', and it had the cellphone number," he told the Herald.
"We waited there for a little bit, wondering if the mum was just going to be two seconds and come back. And my wife said, 'I'm not going in without someone being here with the baby'."
Anyone with information should contact Porirua Police on 04 237 5452.
- APNZ