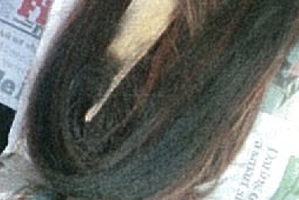 A dead horse's tail has been seized at the border from a passenger who wanted to use the dirty hair for a toy rocking horse.
A Ministry for Primary Industries quarantine inspector seized the tail from a passenger arriving at Wellington Airport from Sydney last week.
MPI central team manager Andrew Spelman said the untreated tail was "very dirty" and still had bits of skin hanging off it.
"They don't come much stranger than this border interception,"he said.
The passenger had received the tail from a taxidermist and was planning to use the hair for a toy rocking horse.
They had declared the tail so did not receive a fine.
"The main problem was that the passenger didn't have documents to prove the hair had been treated to kill any bugs in the skin tissue, or any hitchhiking organisms that could harm New Zealand horses or other parts of our primary sector," Mr Spelman said.
The tail would be allowed to enter New Zealand, but only after it was fumigated at the passenger's expense.
Mr Spelman said all passengers should declare or dispose of any item that has a potential biosecurity risk before crossing the border.
"And that's what this guy did. So that's great."
- APNZ