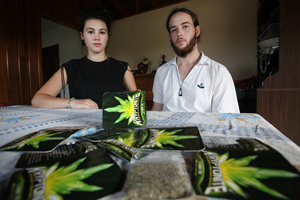 Two teenagers say a new legal high they smoked contained ecstasy - and left them vomiting with no control over their muscles or bodily functions.
In the week after they used the synthetic cannabis Kryptonite they say they experienced hallucinations, could not eat or sleep and could not distinguish between hot and cold water.
Matt Gibson, 18, and Storm Ryan, 17, of Mount Maunganui, spoke exclusively to the Bay of Plenty Times about their "scary" experience to warn others and in an effort to get the drug off shop shelves.
The couple tried Kryptonite after a friend's recommendation but after their experience believe it could kill.
"When it wears off, it's the worst thing," Matt said.
"We were throwing up ... We couldn't control going to the bathroom. We had panic attacks."
The couple said they smoked the drug for 14 days and since they stopped last Wednesday they had experienced hallucinations, could not eat or sleep and no longer had heat sensory functions to tell what temperature the shower water was.
"I couldn't control anything with myself. I was screaming at the top of my lungs, slamming my hands and feet and arms into the kitchen floor. It was scary," Matt said.
Storm said they could smell the Kryptonite coming out of their pores.
"It was terrible. You could smell it on the towels we'd used in the bathroom. We'd throw up at the smell of it."
The couple went to Tauranga Hospital on Good Friday and were given valium.
Discharge papers show they were diagnosed with "ecstasy poisoning".
"But we haven't taken any ecstasy. It's come from this," Storm said, gesturing to a Kryptonite packet they plan to get tested.
The couple had previously tried Kronic and K2 but said Kryptonite was "10 times stronger".
Matt's mother, Kerry Gibson, said she and her husband did not sleep for five days because the young pair would wake up screaming, walk around the house, and talk nonsense with no recollection of their episodes.
Kryptonite costs about $20 a bag. The couple say they bought their Kryptonite from Mount Maunganui adult store A Tease. The store's owner did not return Bay of Plenty Times calls.
The drug has no ingredients list.
Health Board youth alcohol and drug clinician David Gilmour believed it was possible ecstasy was used in Kryptonite and other synthetic cannabis products, which had sent several young Tauranga people to hospital with psychosis.
In August, new legislation will ban the sale of psychoactive substances such as legal highs unless approved by a regulator.
For more articles from this region, go to Bay of Plenty Times