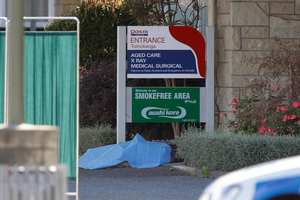 A man and a woman allegedly stole a car, abducted a man who accidentally ran over their female companion in the middle of the night and then dumped her body outside a hospital.
The police say the drama began on Tuesday when a stationwagon stolen from Tauranga Hospital became stranded on State Highway 29 in the Kaimai Ranges when it either broke down or ran out of petrol.
About 3am, Tauranga driver Neville Brown accidentally struck an 18-year-old Tauranga woman near the car.
The 30-year-old man and the 23-year-old woman who were with her allegedly bundled Mr Brown into his Toyota Prado and drove off, but he managed to escape a short distance away.
The pair apparently then drove to Pohlen Hospital in Matamata where they dumped the body of their friend, who was discovered by security staff about 4am.
Matamata residents say they heard arguing and yelling outside the hospital before hearing tyres screeching and a car speeding off.
The pair were arrested at a Papakura address at 4.30am.
They appeared in Manukau District Court yesterday afternoon charged with abduction, theft of a vehicle, unlawful use of a vehicle and injuring with intent, and were granted interim name suppression until their next appearance.
Detective Senior Sergeant Lew Warner said the dead woman had injuries consistent with her being struck by a vehicle but a post-mortem examination to be performed today would establish exactly when and how she died.
"However, at this stage we are working on the belief that a chain of events began when the stolen stationwagon broke down or ran out of petrol in the Kaimai Ranges, leaving the offenders stranded."
Mr Warner confirmed that there was "an association" between the woman and the arrested pair but he would not elaborate.
"We are speaking with the family of the young woman ... They are devastated as well."
He said Mr Brown was distressed as a result of the incident.
Police are keen to hear from anyone travelling between Tauranga, Matamata and Auckland early yesterday who saw the silver Toyota Prado, and are interested in the movements of the silver Nissan Wingroad stationwagon in the Central North Island since Tuesday afternoon.
Mr Brown has said two truck and trailer units passed by while he and the arrested pair were still at the scene on State Highway 29 and he tried to wave them down.
Police are appealing for those drivers to come forward.
Anyone with information is asked to contact Tauranga station on (07) 577 4300. Alternatively, information can be provided anonymously via Crimestoppers on 0800-555-111.