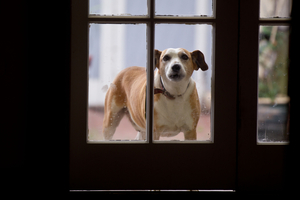 Auckland Council is looking at allowing part-payment of dog registration fees as a way to save the 10 animals a week that are impounded and destroyed.
Councillor Cathy Casey said owners should be able to part-pay registration, instead of losing their dog because they could not afford the pound release fee.
"We need to be looking at this because not everyone can pay if they are trying to feed their families and we seize the dog and slap them with a fine and pound charges."
Dr Casey said last year's figures on the fate of dogs not collected by owners showed the council should do more.
A total of 739 dogs were found new homes.
However, 529 dogs that were suitable for adoption had to be put down.
And 2976 dogs were destroyed after being deemed unsuitable for adoption, because of temperament, poor health or being mainly pit bull or a menacing breed.
Dr Casey said a part-payment option would have helped a West Auckland resident, who had to pay $209 to get her dog back from the pound over Easter.
The woman, who asked the Herald not to name her, said that with three teenagers living at home she could not afford to renew registration for Kelea, which she inherited from her mother a year ago.
On Saturday, while she was out, Kelea was seized from the property.
"A note said he was at Silverdale pound. But people don't just have that sort of money lying around and we only got him back on Tuesday.
"I used my holiday money and my husband did a 10-hour shift painting to get $209.
"They work on your emotions; people love their dogs but are having to choose to either feed the family and pay the bills or leave their dog to die."
The council's northern licensing and compliance manager, Rosemary Hagg, said the dog was 5 and was not registered until it was 3.
It was impounded after two registration reminder notices, a three-days-to-pay warning and then an infringement notice.
The owner did not tell the council there were difficulties with payment.
The $209 for releasing Kelea was made up of $72 for sustenance and care, impoundment fee of $36 and registration fee of $101.
On Tuesday, the council's regulatory and bylaws committee voted to support the principle of part-payment and recommend it to the committee responsible for revenue from fees.
SPCA pleads for animal lovers to give sick cats respite care
Willow, a 3-month-old female tortoiseshell, needs a foster home.
An influx of sick cats and kittens has the Auckland SPCA pleading for volunteer foster owners to give a "lifeline" to the pets.
Between 10 and 15 temporary homes are needed every day for sick, weak and recovering felines rescued or found by the SPCA, before they are permanently homed.
CEO Christine Kalin said volunteers were desperately needed to meet the high demand.
"Often we fall short by between five and eight foster homes per day - and that figure gets worse during Easter and school holidays because many of our loyal foster families go away on holiday themselves."
Ms Kalin pleaded for Auckland's animal lovers to put their hands up.
"Fostering is an incredibly rewarding experience; you're essentially extending a lifeline to a living creature and giving it the chance of a new life."
SPCA Auckland provides food, equipment and support. Fostering periods ranges between two and six weeks.
To foster a cat or kitten phone (09) 256-2525 or email fostering@spca.org.nz
Impounded dogs 2012
• 4244 impounded
• 3505 destroyed
• 739 adopted