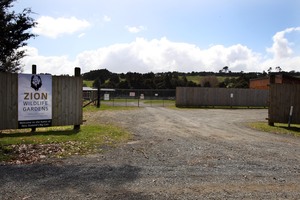 The sister of the former Zion Wildlife Gardens owner Craig "Lion Man" Busch says she was too traumatised after being sacked from the park and then arrested for trespass, to file grievance papers against the receivers on time.
Megan Busch failed in her bid to bring a complaint against the receivers of the Whangarei park to the Employment Relations Authority because of the late filing.
Ms Busch accused the receivers, Colin McCloy and David Bridgman, of breaching their duty to provide her with a safe and healthy working environment.
She argued her case should be heard because the trauma she suffered after being fired resulted in "exceptional circumstances" for the delay.
When Ms Busch was sacked on January 31 last year, she and her mother Patricia Busch returned to the park to find her access to the Zion site, where Ms Busch was living at that time, blocked by a number of men and police officers.
When Ms Busch refused a police officer's order to leave, in accordance with trespass orders, she was arrested for trespass.
She also told the authority she had been manhandled by police.
A report by clinical psychologist Carolyn Mills was supplied to the authority, which said Ms Busch had been suffering from trauma arising from being fired and arrested.
Dr Mills said Ms Busch was suffering from a nervous breakdown, severe Post Traumatic Stress Disorder, depression and shock.
She said Ms Busch "cannot remember things and cannot focus on the road when she is driving or doing anything that requires concentration".
Ms Busch's representative Liz Lambert told the authority Ms Busch continued to be traumatised after, what she said was an incorrect media report in which Ms Busch discussed the welfare of horses she was unable to retrieve from the park.
The article said Ms Busch had written to the Ministry of Agriculture and Fisheries, when it had actually been her mother to write the letter, Ms Lambert said.
Ms Busch also appeared on TV3's Campbell Live programme, shortly after she was fired and discussed an alleged incident that happened earlier at Zion.
Authority member Eleanor Robinson said she did not consider that someone who was able to speak with the media within two months of being fired was too traumatised to file grievance papers on time.
"I do not find in these circumstances that the evidence submitted supports the claim that Ms Busch was so traumatised by the events of 31 January, 2012 that she had been unable to turn her mind to properly consider raising a personal grievance for the whole of the 90 day statutory period."
"I determine that the delay in Ms Busch raising her personal grievance within the 90 day statutory time limit pursuant to s 114 of the Act was not occasioned by exceptional circumstances lasting at least the whole of the 90 day period."
The troubled wildlife park is has suffered a bitter ownership battle between Craig Busch and his mother, as well as closing for three months after the death of one of the park's animal handlers who was mauled to death by a tiger in May 2009, in front of horrified visitors.
For more articles from this region, go to Northern Advocate