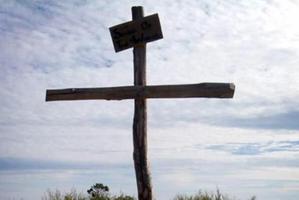 A large wooden cross illegally erected on the summit of Mauao over Easter has deeply upset Tauranga Moana iwi who hope those responsible will come forward and make their apologies.
The large make-shift cross made out of a fence posts bearing a plywood sign saying 'Savior (sic) of the World' was removed by a Tauranga City Council contractor yesterday.
Ngati Ranginui chairman Brian Huikakahu Kawe said it was not the first Easter this had happened and he believed some members of a local Christian group or local church were responsible.
Mauao was owned by Tauranga Moana iwi and people did not have the right to do anything on it without the board of trustees' permission, he said.
"For local iwi Mauao is very sacred and the summit extremely so. This was an act of ignorance with no understanding of our cultural protocols and the fact that it was done under the cover of darkness means whoever is responsible knew what they were doing was wrong. It doesn't portray the true Christian character.
"I'm sure if they had erected a cross in someone else's property, let's say Tony Ryall's backyard just imagine what the response would be," he said.
Mr Kawe said he hoped those responsible would come forward so iwi could discuss the issue.
"The trust is insulted as this is not first time this has happened and it was very disrespectful and this act requires an apology at least," he said.
Facebook feedback was mixed.
Tracey Tangitu said she liked it, "let it remain", while Kenia Mihaka-Rameka said it was "disrespectful" and "take it down".
Alicia Reihana responded positively, questioning what the problem was, asking whether the outcry was because no one was told about it.
Councillor Murray Guy said for tangata whenua, Mauao was a sacred place and the act was illegal and disrespectful to local iwi.
"It's very disappointing and most concerning," he said.
Deputy mayor David Stewart said the act was "totally inappropriate" as Mauao had cultural significance for lots of people, not just Maori, and for someone to go up there with a spade and dig a big hole showed a total lack of courtesy and respect.
"I hope whoever has done this has the courage of their convictions to come forward to identify themselves so they can have the appropriate discussions with Mauao's owners, so they can become better educated about Mauao and the hurt they have caused."
For more articles from this region, go to Bay of Plenty Times