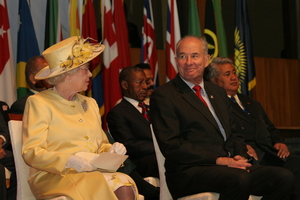 For a man with such avowed admiration of the Queen, it must have pained Sir Don McKinnon to spend so much time contemplating her death.
But it was his duty to do so when he was secretary-general of the Commonwealth - so a succession plan would be in place for the Commonwealth.
Working on the plan meant not only discussing it privately with Commonwealth leaders but drawing Prince Charles into the work of the Commonwealth.
In the course of the job, Sir Don and his wife, former Radio New Zealand press gallery reporter Clare de Lore, got to know and like the Prince and Camilla, the Duchess of Cornwall well, as he tells in his new book about eight years in the job, In the Ring.
The McKinnons were invited to their wedding in 2005 at St George's Chapel in Windsor Castle, after a civil ceremony in the nearby town hall.
"Opposite us, actor Rowan Atkinson looked in character as Mr Bean during the singing of the hymn and even managed to sit down and stand up at the wrong time, causing everyone around us a small chuckle," he writes.
During the reception, Sir Don received a friendly little wave from the Queen and joined her in a conversation with her senior farm staff about the problems they were having with heifers. He also spoke to the Duke of Edinburgh who told him he had discovered some in Germany the previous week he had not known about before.
Sir Don and his wife hosted a fund-raising dinner for Prince Charles and Camilla in Auckland last year, catered by Peter Gordon, and raised money for the Queen's Diamond Jubilee Trust.
"We both like Camilla very much and certainly know that Prince Charles has been incredibly relaxed since she has been on the scene publicly," he told the Herald.
The amusing royal anecdotes in the book augment the invaluable historical record of events during Sir Don's tenure, such as the suspension of Zimbabwe from the Commonwealth.
And there are moments to that crisis, too, such as Robert Mugabe leading Sir Don hand-in-hand to a meeting in Harare in 2000, in which Mugabe then attacks "Tony Blair and his gay Cabinet" for reneging on a land purchase deal.
The highest praise is reserved for the Queen, of whom Sir Don writes: "I could not have had a better boss."
He had numerous private meetings with her, and had a weekend at Balmoral where he borrowed one of her horses to ride the estate - practising the stockman skills he acquired as a youth.
Such was the goodwill between them that when Sir Don's term was up that he and Clare invited the Queen and Prince Philip to their house in London for a farewell lunch - the first time in seven years they had been to a private house in London. Peter Gordon was the caterer and Sir Don didn't tell the two waiting staff who they were serving or even where they were going until a few minutes before they arrived.
African leaders, wrote Sir Don, made it clear to him that they did not feel diminished by the Queen of their former colonial power being head of the Commonwealth.
He outlines in his book discussions he had with some of the leaders, prominent among them former President of Nigeria Olusegun Obasanjo, who had told him that leaders must not get to the point where they vote on it.
He also records the Nigerian leader as having said: "We don't feel so small that we have to reject the monarchy to feel big. The monarchy is equally part of our heritage, as is our common law judicial system and our parliamentary system. It keeps the Commonwealth unique."
Key ropes in Sir Don for his UN campaign
Sir Don McKinnon's association with Africa in his Commonwealth job is now being used by the Government in its bid to gain a seat on the United Nations Security Council.
Prime Minister John Key has asked Sir Don to be a special envoy to seek support for New Zealand's bid. The position is from 2015 to 2016 and the election will be held next year.
On his way back from launching his book, In the Ring, in London in March, Sir Don stopped off in four countries - Senegal, Sierra Leone, Gambia and Ghana - to campaign for New Zealand and was welcomed by the leaders of three. The fourth was out of the country.
As former foreign minister, Sir Don oversaw New Zealand's last successful bid for a Security Council seat, in 1993-94.
He is used to international campaigns, having secured his own post while he was foreign minister and allowing former Labour Prime Minister Mike Moore to successfully run for director-general of the World Trade Organisation at the same time as he was campaigning for the Commonwealth job.
Sir Don reveals in his book that the Prime Minister at the time, Jenny Shipley, in a private meeting offered him the chance to pull the plug on Government support and funding for Mr Moore's campaign.
He told the Herald that his Cabinet colleagues were questioning the wisdom of keeping both campaigns going when the votes for both positions were very close together.
Sir Don would not comment on whether the bid by Trade Minister Tim Groser for the same WTO job, which will be decided within a few months, would have any effect on New Zealand's campaign for the Security Council seat.
In the Ring, Don McKinnon, Elliott and Thompson, RRP $49.99