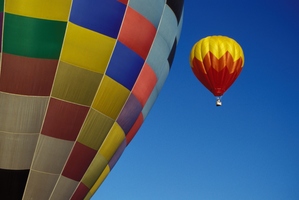 Hot air balloons from all around the world are rising into the skies above Hamilton today from six parks around the city.
It marks the beginning of the annual Balloons over Waikato event, which hosts balloonists from as far away as America and Europe.
"It's really quite beautiful having these huge, colourful balloons up against the sunrise," said Newstalk ZB reporter Sophia Duckor-Jones from Claudelands, where hundreds of people have turned out to see them.
"The balloons are giant, they're not just your usual hot air balloons - they're huge.
"There are some funny-shaped ones based on cartoon and Lego characters. It's a really joyful atmosphere."
The same colourful scene is happening at five other venues around the city as part of the annual Balloons over Waikato festival.
Event general manager Michele Connell said it is one of the biggest ballooning events in the southern hemisphere, and expensive too.
It has cost around $850,000 to put the show on, but she said it is worth it.
"It's just become such a big event that, to keep up the spectacle the public expect now, we've got to keep coming up with new and fresh ideas which we try and do every year."
Can you see the hot air balloons? Send your story, photos or video here.