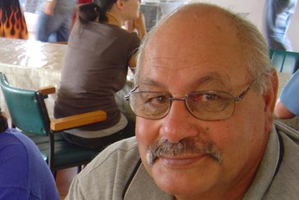 The mystery Jeep at the centre of the murder of George Taiaroa was seen partly parked off a rural road moments before the road worker was gunned down nearby.
But the officer in charge of the investigation is convinced the shooting was not drug-related.
Police still do not have a motive or firm suspect more than two weeks after the 67-year-old father-of-four was shot by someone driving a blue Jeep Cherokee on Tram Rd, Kinleith.
Yesterday, police revealed a farmer is thought to have had a run-in with the shooter beforehand.
The farmer was driving a tractor from Whakamaru when he saw a dark Jeep parked off Ongaroto Rd, and had to steer around it.
The farmer found it odd when the same vehicle began tailing him and made no attempt to pass, even when the road was clear and despite the slow speed of his tractor, Detective Inspector Tim Anderson said.
It continued to follow him when he turned on to Tram Rd and toward the traffic controlled point where Mr Taiaroa was shot.
As the tractor passed Mr Taiaroa and headed over the Tram Rd bridge, the 4WD appeared to drop back and was then stopped by Mr Taiaroa.
Witnesses reportedly saw Mr Taiaroa falling to the ground immediately after the incident as a blue 4WD rushed away from the scene.
"We've been working with the tractor driver to pinpoint the timings of his sightings and everything suggests that this is our vehicle of interest, a Jeep Cherokee," Mr Anderson said. "A minute or so later George was shot."
The Jeep was seen driving erratically after the shooting, but this was the first report police had received about the vehicle before the event.
Asked whether there was anything suspicious about where the Jeep had been parked on Ongaroto Rd - and if a drug plot was being checked - Mr Anderson told the Herald that no information so far suggested the incident was drug-related.
Judging by the manner of driving, it was assumed the suspect knew their away around the area.
Police have confirmed that Mr Taiaroa had returned from his lunch break about 25 minutes before he was killed. But it was still unclear why George was the victim.
"It's been two weeks now since George was killed and we have found nothing to suggest that George was anything but a friendly, hard-working, family man."
Last week, Mr Taiaroa's daughter Chanel said her family had been left "speechless" by the murder.
"Someone out there must know who is responsible for this crime and what motivated them to commit it," Mr Anderson said.
"As the Taiaroa family stated during their public appeal last week, those people need to be brave and come forward."
Can you help?
Anyone with information about the death of George Taiaroa should call police on 0800 Kingswood (0800 546 479) or Crimestoppers on 0800 555 111.
- APNZ