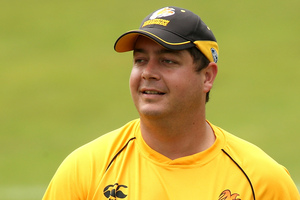 Bashed cricket star Jesse Ryder has been interviewed by police today after his brutal bashing, but still doesn't remember what happened to him.
The 28-year-old was punched and kicked outside Aikmans bar in Merivale, Christchurch, early last Thursday after a season's end night out with his Wellington Firebirds' teammates.
Ryder's manager Aaron Klee confirmed that officers visited Ryder at the city's hospital today.
It's not clear how much he could tell them about the attack or what led up to it.
"Unfortunately Mr Ryder has no recollection of what took place or the events leading up to the incident,'' said Detective Senior Sergeant Brian Archer.
"This is not uncommon when a victim has received a head injury of this nature.
"Should Mr Ryder gain sufficient recollection as his recovery continues then we may look to speak to him again, however there are no immediate plans to re-interview him at this time.''
Police wouldn't go into details of what officers were told.
A spokesman confirmed the investigation was ongoing, but would not say if they were looking for anyone else in connection with the attack.
Two men, aged 20 and 37, have been charged with assault, and will appear at the Christchurch District Court on Thursday.
After spending two days in an induced coma with a fractured skull and a punctured lung, Ryder moved out of the intensive care unit at Christchurch Hospital on Sunday and is now in a stable condition in a ward.
He is on his feet and is walking around his hospital room as his "remarkable'' recovery continues.
A hospital spokeswoman today said he was continuing to improve.
It was not yet known when he will be discharged or potentially moved to Wellington Hospital.
Mr Klee spoke yesterday of his amazement at how much Ryder's condition improved over the Easter holiday weekend.
"It's been remarkable to see how someone can go from the state he was in to where he's at now,'' Mr Klee told APNZ.
"He's up on his feet ... he can walk around the room, but he's still very weak.
"He continues to get better and build his strength. He's still got injuries but we'll continue to work through them. It's just time and rest from here.''
Ryder released a statement at the weekend to let his fans know: "I'm OK.''
- APNZ