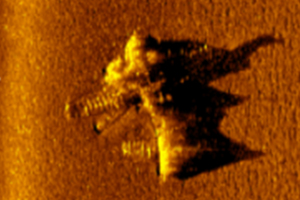 Plane wreckage, thought to contain the bodies of 2degrees' chief executive Eric Hertz and his wife Kathy, has been found on the sea floor off the Waikato coast.
Searchers confirmed this afternoon that an underwater sonar image of an object 56 metres below the surface was that of the Beechcraft Baron that ditched into the sea at high speed near Gannet Island on Saturday.
A Navy squad specialising in mine sweeping yesterday joined efforts to retrieve the bodies of Mr Hertz, 58, and Mrs Hertz, 64.
The Navy team's Remus 100 autonomous underwater vehicle, which travels along the contours of the ocean floor, identified a large object of interest, and police have now confirmed the sonar image is of the aircraft.
Sergeant Warren Shaw of the Waikato police search and rescue squad described the find as a success, but said it was a small step in the overall recovery operation.
"Once we were able to identify the item of interest it meant we could narrow our search field considerably and deploy even more specialised equipment to the crash site.''
He said a team including police, Navy and Civil Aviation Authority (CAA) personnel had returned to the scene on a Coastguard vessel at first light today.
Searchers this afternoon received confirmation that the remote-operated underwater vehicle (ROUV) had captured images of the aircraft.
"What the ROUV has shown us is that the aircraft is upside down at a depth of 56 metres on the ocean floor, which means the agencies involved have not been able to confirm if the occupants, Mr and Mrs Hertz, are on board or not,'' Mr Shaw said.
The challenges faced by the agencies involved were difficult but not insurmountable, he said.
"We have the right people and equipment on hand, both in Raglan and elsewhere, available to deploy, and each agency remains committed to returning the missing couple back to their family.''
CAA spokesman Mike Richards said an aviation expert was helping to identify parts of the aircraft found on the sea floor.
"With the aircraft being upside down, fully submerged and bedded in the ocean floor, it's quite a difficult task to make sense of the visual images that are being relayed to the team on the surface.''
Mr Richards said police and Navy were working on recovery options to retrieve the occupants.
"Once this is done, the CAA can start considering ways to carry out the investigation as to establishing possible cause or causes of the accident.
"The coordinated efforts of the agencies involved are both substantial and remarkable.''
- APNZ