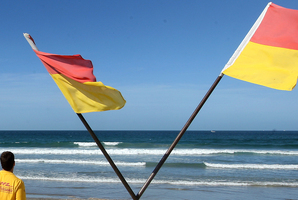 Lifeguards were supposed to finish up on Northland's patrolled surf beaches yesterday, but the long summer has seen Ruakaka volunteers staying on for next weekend as well.
Weekend volunteer lifeguard patrols at Mangawhai Heads, Waipu Cove, Ruakaka and Whangarei Heads were to finish yesterday after starting on Labour Weekend. Paid lifeguards patrolled the beaches during the week for part of the Christmas/New Year holidays.
But Ruakaka Surf Lifesaving Patrol president Paula Kearney said with the summer sun extending well into autumn, the club's members would be patrolling again this coming weekend for the last time.
"We've had a great [Easter] weekend with few problems, apart from a boat with three men on board flipping as it came across the bar. But they were all okay and everybody else has had a great time on the beach," she said.
"We've had no major problems (this summer) apart from four people needing to be rescued on the last day of the paid guards patrolling."
For more articles from this region, go to Northern Advocate