Council offshoots will pay entry charges at three swimming facilities until city makes decision on targeted rate.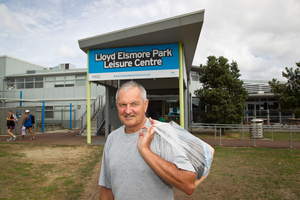 Three Auckland swimming pools have opted out of the council's move to charge adults for a dip from today.
The pools are in the areas of the Otara-Papatoetoe and Mangere-Otahuhu Local Boards, which say they cannot bring in the charge against the wishes of their communities.
Swimmers over the age of 17 will not be asked to pay at Papatoetoe Centennial Pool, Moana-Nui-a-Kiwa and Otara Leisure Centre and instead will be subsidised from the boards' funds.
"This is our people's leisure time, the time they are going to do a bit of exercise ... at least we're doing something," said Mangere-Otahuhu Local Board chairman Leau Peter Skelton.
Counties Manukau District Health Board figures show 48 per cent of Mangere's adult population are obese and campaigns to improve residents' eating and exercise habits are under way.
Mr Skelton said his board conducted a public survey on the council's decision to charge all adults in the pools network.
The Otara-Papatoetoe board did too.
"Our people say they do not mind a target rate to cover the cost of free access and we will ask the council governing body to authorise that special rate."
Mr Skelton said results of the consultation were not known until the day before the Easter holiday.
In order to avoid confusion, the board will cover the cost until July 1, by which time the target rate should take effect.
"The two boards will pick up the cost for the next three months until the new financial year so we will squeeze our budget but we will find the money."
The former Manukau City Council had free swimming at all of its pools but adult charges of $3.10 come in today at Lloyd Elsmore Park Leisure Centre in Pakuranga, Manurewa Aquatic Centre and Totara Park Pool.
Last year, Mayor Len Brown tried to extend the policy across the region to all ages with the aim of giving people water skills and physical activity. This would have cost a further $5 million but received only 15 per cent support in the council draft long-term plan.
However, the council accepted Mr Brown's best fall-back position to extend free entry to children aged 16 and under to all 24 pools in the network.
This applies from today and has been welcomed by patrons of pools such as West Wave, in Henderson, which had charged $4.60, and North Shore Leisure, which charged $6.50.
Charges will still apply for facilities such as spas, saunas, steamrooms, diving boards and hydroslides and educational and exercise programmes.
At the Lloyd Elsmore pool, two swimmers had differing views on the new charge.
"It's unreasonable and unfair," said Brian Mayall, a ratepayer of 35 years.
"Sir Lloyd Elsmore [Manukau mayor from 1968 to 1983], when he set all this up, promised free pools and it's been built on our rates."
Mr Mayall said he swam 40 lengths of the pool five days a week - a fitness regime he started six years ago when his leg was broken in a car crash.
"I'll keep doing it - the cost is just another rise that's not covered when incomes are not rising."
However, Keiko Nishimura, who swims three times a week to heal a back injury, said: "It's reasonable to charge because the water rates have increased."
She said she taught herself to swim at the pool and could now swim non-stop for an hour.
In the swim
* Aucklanders aged 16 and under will have free access to Auckland Council-owned pools from today.
* Adults 17 years and over will pay a casual swim charge of at least $3.10 at all council pools, except for three pools in Manukau - the Papatoetoe Centennial Pool, Moana-Nui-a-Kiwa (Mangere) and Otara Leisure Centre.
* Pools that already charged adults will maintain their existing fees.