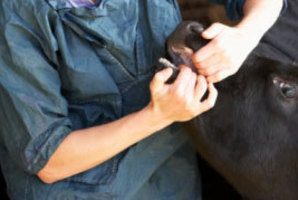 A young woman suffered a seizure and was flown to hospital in a semi-conscious state after suffering an allergic reaction to penicillin she accidentally squirted onto her lip while treating a cow today.
The 25-year-old causal milker on Mt Ella Station at Murchison in the Tasman region had her hands full as she was treating the cow with a syringe of the veterinary penicillin, farm owner Rick Monk said.
"[The syringe had] a plastic cap on the end. She grabbed the plastic cap in her teeth to pull the syringe off to inject the cow and somehow the penicillin ... a very small amount, squirted out onto her lip," Mr Monk said.
The woman, who has worked at the farm for only a few days, fell in and out of consciousness while paramedics rushed to the scene and monitored her health, before the Nelson Marlborough Rescue Helicopter arrived to fly her to Nelson Hospital.
Mr Monk said he believed the woman knew she was allergic to penicillin, and immediately after the syringe squirted the drug onto her lip she reported it to a manager on the farm.
The woman was treated at the hospital before being discharged several hours later.
- APNZ