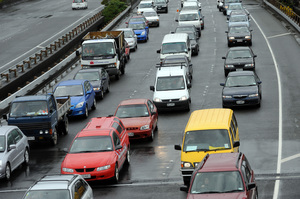 Traffic is heavy, but flowing smoothly in most potential bottlenecks around the country as motorists make the long, slow drive home after the Easter break.
Police report many roads are congested and there have been some minor crashes, but nothing to cause major traffic delays.
A spokesman for police Southern Communications said they had received many calls from disgruntled motorists complaining about other peoples driving - too slow or too fast - but there had been no serious incidents.
A slip has closed one lane of SH1 on the eastern shore of Lake Taupo, about 5km south of Hatepe.
The road has been reduced to one lane, and police are asking motorists in the area to be patient.
Traffic was expected to remain slow-moving for much of the day, due to heavy traffic flows and wet roads in some parts of the country.
Earlier today police urged drivers to take extra care, particularly in areas where rain had made the roads slippery.
Wellington district road policing manager Inspector Donna Laban said drivers should prepare for a slow trip home.
"Keep left, be patient, have plenty of rest, share the driving, be conscious of the change in weather and just be considerate, really. We want people to arrive back safely form their trips away,'' she said.
"We had quite a downpour yesterday for periods on and off. It's just really driving to the conditions and not following too closely, keeping speed down and just really being patient,'' said Inspector Laban.
National road policing manager, Superintendent Carey Griffiths, said police would be highly visible throughout the country enforcing a speed tolerance of 4km/h over the limit.
The speed limit is not a target, and road users should drive to the conditions, he said.
"Human beings are fallible and crashes will occur. However the incidence of injury or deaths can be reduced when we accept, comply with and share the responsibility for using our roads safely.''
Three people have died during the official Easter holiday period that started at 4pm on Thursday and ends at 6am tomorrow.
Only two hours into the road toll period, Temuka's Stephen Kirkcaldie, 55, died when he collided with a car while cycling home from work.
He and his wife Carmela were to celebrate their 18th wedding anniversary next week.
"That's why it's so tragic'', said family friend Tania Farrer.
"It's so hard. He was a very good man.''
At 2am on Saturday, Anthony King, 53, from Paraparaumu Beach, was killed when the Suzuki vehicle he was a passenger in collided with a BMW on State Highway 5 at Wairakei, north of Taupo.
That night Hannah Eaton, 25, was killed when her BMW hit an oncoming Ford Territory SUV at Puriri, south of Thames.
Her husband, ex Hurricane and Magpies' rugby player Chris Eaton expressed his grief over losing his wife, saying their daughter Layla was helping to get him through.
"Thanks for the support. I love my wife so much it hurts. My angel Layla is my world and is the last thing holding me together. Love 2 all,'' Eaton tweeted.
Police advised they will return to the scene of the crash about 10am tomorrow to complete their examinations and motorists should expect delays.
Traffic management staff will be in place as traffic will be cut to one lane. Motorists who can't avoid travelling that stretch of road at that time are advised to expect delays, police said.
While police are generally pleased with driving behaviour so far this Easter weekend, "Three fatalities is always three too many'', said Superintendent Griffiths.
"We now have a shared responsibility to avoid further tragedy and loss of life.''
Over the past five Easter periods there have been an average of six road deaths.
MetService duty forecaster Liz Walsh said there could be a thunderstorm warning out for Westland and Fiordland tomorrow, with winds potentially gusting up to 100km/h.
- APNZ