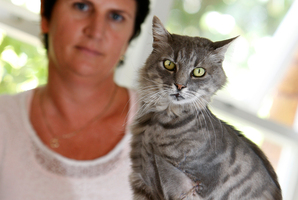 A Whangarei animal lover, incensed by the recent spate of cat shootings, is offering a $100 reward to catch those responsible and appealing for others to join her campaign.
Jean Williams, of Maunu, said the recent irresponsible behaviour of those she suspected were teenagers had put many families through a lot of grief, both emotionally and financially.
At least six families have contacted the Northern Advocate after their cats had either been maimed or killed by slug guns in the last fortnight.
Seagulls, doves and other birds have also been shot at by pellet guns, particularly in Tikipunga, and police and SPCA have called on the public to join the fight against the illegal behaviour.
Ms Williams has also joined a Facebook appeal called Cats to Stay that challenges economist Dr Gareth Morgan's controversial Cats to Go campaign that calls for people to stop buying new cats and for owners not to replace pets when they die.
"I don't think $100 is enough for anyone to do anything but I am hoping cat lovers will help to build up that reward amount that may tempt someone to come forward with information.
"Someone's got to protect these animals. Whether it's donkeys in Israel or monkeys in South Africa, they just get used and this causes huge grief to their owners."
Ms Williams owns an 18-month old male cat Sharky adopted from the SPCA, and three dogs.
She wants cat lovers to support families whose animals have either been killed or maimed in a cruel way by raising the amount of reward she is offering to help find the culprits. "Your furry friend may be the next victim. Let's show this is not acceptable.
"It is encouraging to see the SPCA is starting to win the odd animal cruelty case that go through the courts but it is only the beginning.
"Animals have rights, humans have no right to abuse them," Ms Williams said.
She said it was awful to hear that seagulls were also being shot at by slug guns.
Those who wish to join her campaign can contact her on vitawhg@xtra.co.nz.
The SPCA believes a group of teenagers is behind shootings of cats in Whangarei and have urged parents to take note before the situation turns far more sinister. The animal welfare agency said both animal welfare legislation and the Firearms' Act came into play if those responsible for the shootings were caught.
For more articles from this region, go to Northern Advocate