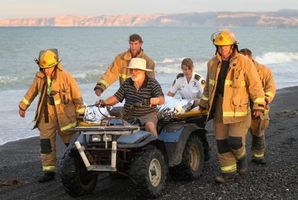 The danger of three and four-wheeled motorbikes on beaches was highlighted when a 13-year-old boy and a 58-year-old woman suffered injuries in two separate incidents at the weekend.
Lowe Corporation Rescue Helicopter Trust spokeswoman Louise Harvey said that at 4.14pm yesterday [Sunday] the rescue helicopter was called to a recreational quadbike accident at Black Reef near Cape Kidnappers where a woman sustained spinal and shoulder injuries.
She was airlifted to Hawke's Bay Hospital for further treatment.
Hawke's Bay District Health Board spokeswoman Anna Kirk said last night the woman was in a stable condition and was being treated for spinal injuries.
The accident came after a 13-year-old boy had to be rescued when his three-wheeled motorbike, or trike, tipped over on the barely accessible Tukituki rivermouth beach on Saturday afternoon.
Haumoana man Andrew Garland was on the beach when he was alerted to the mishap when he saw a young girl on a cellphone and the front wheel of the three-wheeler in the air.
Mr Garland said that when he reached the two youngsters the boy was in obvious agony. The youngster had been tossed backwards as it rode up a shingle bank near the river mouth, at least a kilometre from the domain at Haumoana. The front wheel of the trike was in the air, the machine was at risk of toppling on the boy, and the girl appeared to be having difficulty telling emergency services where she was.
Mr Garland's short trip on his own quad bike to get fish and chips became a rescue mission lasting more than an hour before the boy was able to be rushed to hospital by ambulance with suspected pelvic and leg injuries.
The boy is understood to have been a recent arrival in the area, and it was not clear whether he had authorised use of the trike.
He was discharged from hospital after treatment.
For more articles from this region, go to Hawkes Bay Today