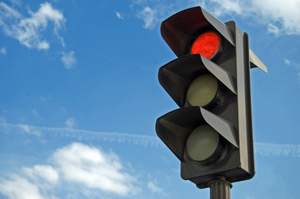 A Napier truck driver led police along a "Hansel and Gretel" trail after he crashed into a traffic light but kept driving with it embedded into the front and underside of the vehicle.
The crash happened around 7.50am on Saturday at the intersection of Kennedy and Riverbend Rds in Onekawa after the central city-bound driver veered off the road, on to the footpath, and ploughed into the traffic light standard, which snapped at the base and wrapped itself around the front of the five-tonne truck.
Police speculated the man, believed to be in his late 50s, may have nodded off at the wheel, and said it was fortunate the only thing he struck was the traffic light.
Hawke's Bay police Constable Phillipa Smith said the driver continued along Kennedy Rd, leaving a trail of broken pieces of traffic light, as well as a tell-tale trail of coolant fluid from the truck's damaged radiator.
"We followed the trail - it was like a scene from Hansel and Gretel."
Police were also given valuable information from several motorists driving along the busy stretch who were surprised to see a large truck travelling along with a traffic light stuck in its front.
Along with the calls directing police to where the truck had been seen, and the trail of coolant and debris, police were able to locate the driver, and his truck, at his home about a kilometre from where the incident happened.
The man, understood to be a self-employed driver, told police he had not been working at the time but was simply using his truck as transport.
He was now facing alcohol-related and general driving charges, as well as facing a substantial bill for the replacement of the traffic light.
The lamp units alone can cost up to $1350.
Contractors were quickly on the scene after the crash and worked to isolate power to the sheared-off light standard.
They also set up "stop-go" manual traffic sign signals until the lights could be switched back on about two hours later.
While checkpoint drink-driving statistics for the Bay would not be available until the holiday weekend finished tonight, one police officer said indications were motorists had been "pretty good".
For more articles from this region, go to Hawkes Bay Today