Auckland Easter Show left with smaller rides while big thrills lure crowds in the central city.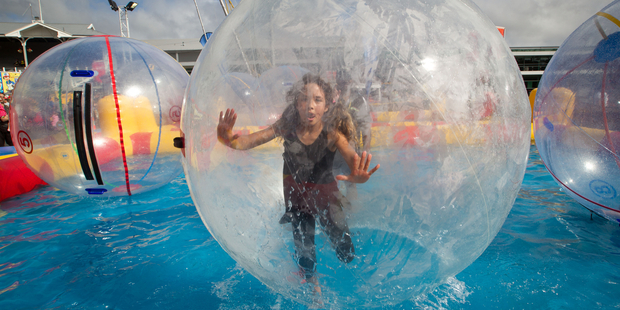 Thrill-seekers at the long-running Auckland Easter Show have been left disappointed after its main ride provider set up a rival event, breaking a 60-year tradition.
Mahon Amusement took its roller-coasters, ferris wheels and dodgems to Queens Wharf and Fanshawe St, starting a new carnival called Easter Downtown, after a disagreement with the organisers.
The Hamilton-based family business has operated rides at the Easter Show since the mid-1950s.
The new Downtown attraction has no entry fee and charges per ride, while the annual show at the ASB Showgrounds is $25 for an adult, with ride prices extra.
Mahon has capitalised on its competition's charges, stating in its marketing material: "All the big rides have moved downtown this Easter and entry is free."
Aucklander Jeanette Lewis was among those at the Coca-Cola Easter Show disappointed at the absence of their favourite rides, and said those in their place were smaller, less exciting and overpriced.
"We were extremely disappointed with what was on offer compared to previous years," she said.
"We had to pay $25 to get in, to then discover none of the big thrill rides were there. The only rides were for small children and they had a limited range available."
Mahon Amusement's co-owner John Mahon said the business had started a new venture following a "disagreement" with Easter Show organisers.
"They have brought in an Australian event organiser and he has brought in some of his equipment, which is his right to do and it's our right to carry on providing people with the fun and entertainment that we are good at.
"We've wanted to look after the punters that do follow us very well and so we've come down into two areas in the central city," Mr Mahon said.
The entertainment and business development manager for the Easter Show, Keith Brown, said: "He decided to go his own way and we've moved on with our business development as we planned.
"No one's kicked anyone out. We put an offer on the table. The offer wasn't accepted."
There were now 22 different ride-providers from New Zealand, Australia and the US, but Mr Brown said rides were not a main focus for the show this year.
"There have been lots of changes and it's only going to get better.
"Next year we already have tenders out and contracts signed for major big rides to come in 2014, but it wasn't something we were focused on for 2013," Mr Brown said.
Live entertainment, including a circus, fireworks and evening concerts, had contributed to an increase of 6000 people through the gates, he said.


Big ticket items
Auckland Easter Show
• Entry price: $13 for students and senior citizens, $25 for adults and up to three children, or $50 for a family pass.
• Rides cost between $2 and $10.
Easter Downtown
• Entry free.
• Ride coupons cost $1.20 each or can be purchased at bulk discounts.