Former head of SFO wants everyone to be alert to the dangers of choking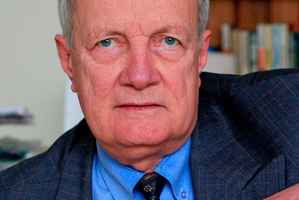 The former head of the Serious Fraud Office is mourning the loss of his eldest daughter after she choked to death on an Auckland street.
Chas Sturt and his family have been rocked by eldest daughter Natalie Sturt's death on a Mission Bay street last week, when a piece of roast beef she was cooking for tea became wedged in her throat.
Sturt's 40-year-old daughter, who lived alone, tried desperately to get help but died on a grass verge about 50m from her home. Her funeral was held last Saturday.
The heartbroken barrister and former fraud boss, who has shunned the spotlight in recent years, this week spoke of his "darling daughter" and her gentle manner.
"She was very, very sensitive," he said. "She would never complain and wouldn't say a nasty word about anybody."
But since his daughter's death he was surprised to find out how common choking was, and wanted to make sure people knew what to do if someone couldn't breathe.
It appeared Natalie had tried to seek help while choking. She raced to a neighbour for help and when she found no one home she struggled further up her street. A passing driver stopped and went to her aid, but she could not be revived.
Sturt said: "Since Natalie's death I've heard about a number of incidents where people have died or nearly died choking, yet we don't hear about it."
St John Ambulance clinical director and Auckland City Hospital intensive care medical specialist Dr Tony Smith said most choking patients were able to sort themselves out, but for a few the episode would prove fatal.
"There are a group of people who are choking - and it's a large group - who will clear it by themselves. Then there are a group who are unfortunately destined to die no matter what anyone does.
"Whatever is down there has gone down into the windpipe and lodged too far down."
Smith said in the vast majority of choking incidents where a patient could still move air, the best thing was to do nothing.
"If you are choking, your body will make a strong effort to expel the object," he said.
But if a person was not getting any air, St John recommended a back-blow technique where a person was pounded between the shoulder blades five times.
If that failed to clear the blocked airway then chest thrusts should be used to create pressure within the chest, said Smith.
But if the choking person had fallen unconscious it was important to dial 111 and start CPR.
Smith said doctors had shifted away from the abdominal Heimlich Manoeuvre about five years ago after a number of patients suffered serious internal injuries.