Reluctance of accused to go to jail blamed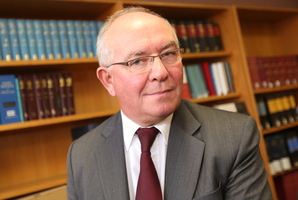 A judge set the task of taking the handbrake off jury-trial delays says the problem is being caused by defendants who "are not in any hurry to get off to prison".
Judge Geoff Rea has revealed 70 per cent of cases where a defendant has pleaded not guilty, are resolved before or during a trial. That included plea bargains, last-minute guilty pleas or charges being dropped. That was wasting the courts' time and causing a backlog of trials in district courts where defendants and victims were forced to wait up to three years for their cases to be heard.
"These people are facing serious criminal charges and a term of imprisonment and, human nature being what it is, they are not in any hurry to get off to prison, particularly if they are on bail," Judge Rea said.
"They are hoping the witness will disappear, but when it comes time for the trial and they realise the witness is there and all the evidence is there, they have nowhere to go but to plead guilty," he said.
As at the end of February, 509 cases were awaiting trial in the Auckland District Court and 306 in the Manukau District Court.
The national average waiting time for a jury-trial case from first appearance to sentencing was now 462 days, up from 390 days in the year to June last year. Judge Rea's aim is to bring that number down to 154, where it was five years ago.
The Napier-based judge was appointed by the chief judge in October to the one-year role of the district courts' jury-trial manager. A raft of changes will go into effect on April 8 that he hopes will start to bite.
The first pushes out the time before a defendant next has to appear in court after being committed for trial. That will be 10 weeks instead of six, but will mean only 32 "callover" cases in a day instead of the 60 now.
"The judges will have read the file and be fully aware of the case. Both lawyers and the defendant will be present so any issues can be ironed out and hopefully the case can be resolved at that stage, if it is going to be resolved," he said.
"If they can agree some facts, the number of witnesses needed can be reduced, saving the court some time. A judge who has all the information can also give sentence indications at that stage, where now they usually set it down for another date."
He is also introducing a short-case court, where all trials set down for three days or less can be dealt with as quickly as possible.
The pressure on the court system was highlighted when a trial last year was aborted, and a new date could only be found in September next year. Kindness Agwu, Bert Jury, and a third man with name suppression were accused of importing kilograms of cocaine and distributing it from the basement of a Ponsonby gym.
Tony Bouchier, of the Criminal Bar Association, said the changes were welcomed by lawyers, who felt delays in seeing evidence against clients was the biggest issue.
"Changes need to be made because trials are taking far too long to be dealt with. We have got people who are languishing in custody waiting for a trial.
"We welcome the opportunity to resolve cases quickly, but I worry about the risk of people feeling pressured to plead guilty and we don't want the justice system taking any shortcuts, which would just clog up the appeal courts," he said.
Just this week four cases due to go to trial in the Auckland District Court did not go ahead.
In two, the accused pleaded guilty and the other two had to be adjourned because witnesses were not available.