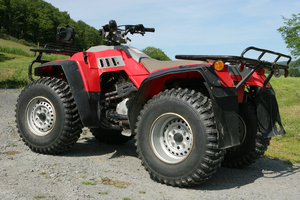 Two people were seriously injured in quad bike accidents today, with a boy hurt at a farm near Wellington and a man suffering upper body injuries at the Whangaehu River mouth.
The boy, thought to be 12 or 13, was seriously injured when the quad bike he was a passenger on rolled.
He was flown to Wellington Hospital from a Mangaroa farm northeast of Upper Hutt. A hospital spokeswoman said he was in a stable condition.
Meanwhile, a 50-year-old man who suffered upper body injuries in another quad bike accident has been taken to Wanganui Hospital by the Palmerston North Rescue helicopter.
Emergency services were called to the incident near the Whangaehu River mouth around 4pm today.
Two people have been killed on the vehicles this year.
Northland Coroner Brandt Shortland this week began holding inquests into five quad bike-related deaths over the next six weeks to try to determine if there was anything in common that could then be used to improve quad bike safety.
Chief Coroner Judge Neil MacLean last year raised concerns about the number of quad bike fatalities.
Simple safety messages around the use of quad bikes could "go a long way to preventing these utterly unnecessary deaths,'', he said.
Sadly, the number of incidents did not appear to be reducing, he said.
Last year the Ministry of Business Innovation and Employment launched a safety campaign after several quad bike deaths across the country.
Every year, on average, 850 people are injured and five killed riding quad bikes.
However, the number of annual deaths has risen sharply in recent years, prompting the ministry to release several safety guidelines.
The guidelines say quad bike riders must be trained/experienced enough to do the job; should choose the right vehicle for the job; always wear a helmet and children should not ride adult quad bikes.
Farmers who don't follow those safety steps risk penalties under the Health and Safety in Employment Act if someone working on their farm is seriously injured or killed.
The ministry also recommends that quad bikes be maintained in a safe condition; riders take care on slopes and rough terrain; don't exceed the capabilities of the bike; don't do tasks that interfere with safe riding and keep both hands on the bike, with eyes on the ground in front.
- APNZ