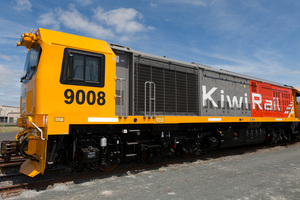 KiwiRail has committed to its struggling commuter train service between Palmerston North and Wellington for two more years.
But it warns it could pull the plug on the Capital Connection if an annual review finds its losses exceed $1 million a year.
The future of the under-utilised weekday service has been in the balance for more than six months, with KiwiRail looking at how to make it viable.
KiwiRail passenger service general manager Deborah Hume today announced it would continue to operate the connection until June 2015, with minimum capital investment and annual fare increases, unless losses exceeded $1 million a year.
She said growing the service's patronage was crucial to its survival.
To break even by 2015, daily patronage need to increase by 61 per cent in both directions, while ticket prices need to increase by 40 per cent.
"In practice that will see KiwiRail attempting to grow patronage while increasing fares about 10 per cent year on year.
We know this will be very challenging."
Currently, an average of 174 passengers a day travel from Otaki station and north, while 116 travel from Waikanae and further south.
The average passenger ticket price is $10.29.
Ms Hume said commuters and councils who have made strong calls for keeping the service needed to encourage more people to use it every day.
- APNZ