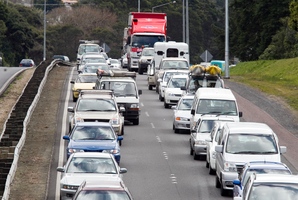 The country's top traffic cop is urging drivers to make history with another fatality-free Easter weekend.
Last year, there were no road deaths during the official Easter holiday period for the first time since records began 57 years ago.
National road policing manager Superintendent Carey Griffiths has called on drivers to ensure that happens again this year.
"It would be outstanding if we were able to repeat last year's result this weekend and make history for a second time," he said.
"Last Easter we showed that we all can make a very real difference by collectively watching our speed, wearing our seatbelts, not driving drunk and maintaining our concentration, particularly as more people travel away over the break."
Mr Griffiths said police would be a highly visible presence in urban and rural areas throughout the country over Easter.
They would focus on enforcing the lowered 4km/h speed tolerance, which applies during all holiday periods, as well as targeting drunk and dangerous driving.
Associate Transport Minister Michael Woodhouse has also called for a repeat of last year's record.
He said holiday driving required extra care and patience.
In the central North Island, police will be using a fixed-wing aircraft to monitor traffic flows and identify speeding vehicles.
Central District road policing manager Inspector Dave White said it had proved a useful tool in reducing risks over the Christmas and New Year period.
"It gives us a bird's eye view of what's happening on our highways and roads ... Anyone we identify doing anything that places other drivers at risk can expect to be caught."
In Otago, police are expecting large volumes of traffic travelling to and from Cromwell for the opening of the Highlands Motorsport Park, a new 4.5km racing circuit.
The track will be officially opened on Saturday and events will continue on Easter Sunday.
Southern District road policing manager Inspector Andrew Burns said police would be out in force to make sure everyone gets to their destination safely.
Police in Canterbury will be targeting alcohol and speed, which caused three of the four fatal crashes in the region over the last five Easter weekends.
There were no fatalities in Canterbury over the last two Easter weekends.
Senior Sergeant Phil Newton of the Canterbury highway patrol said a review of crash data showed the highest risk periods for speed-related crashes were Thursday afternoon and Monday afternoon, when motorists would be travelling to and from holiday destinations.
"These times are when there are heavy volumes of traffic on the road. Drivers can become impatient and take more risks - putting themselves and other road users in danger."
He urged drivers to slow down, be patient and allow extra time for travel.
Waikato police will focus on driver fatigue, after a crash near Otorohanga on Monday in which tiredness was a suspected factor.
A couple visiting from the UK were injured when the car crossed the centre line of State Highway 3 and hit a bank, rolling onto its roof.
The woman driver suffered minor injuries while a passenger suffered serious injuries. He was recovering in a ward at Waikato Hospital.
Waikato District road policing manager Inspector Marcus Lynam urged drivers to get plenty of rest.
The official Easter road toll period started at 4pm today and ends at 6am on Tuesday.
More than 560 people have been killed in Easter road crashes since 1956.