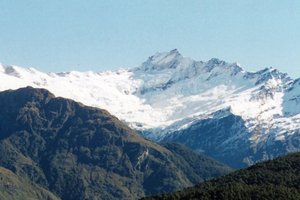 Wearing a helmet may have saved the life of a climber who fell 140m on a rocky peak near Mt Awful, in the Mt Aspiring National Park, yesterday.
The New Zealand climber was helicoptered to Dunedin Hospital with serious head, back, face and arm injuries.
Constable Les Andrew of Twizel police said the man was in a party of four climbers descending and sidling around a rocky ridge.
His foot slipped on a damp rock and he fell - 3m at first and then another 140m.
After a debriefing of the Department of Conservation alpine rescue team at Mt Cook late yesterday afternoon, Constable Andrew said the man was lucky to be alive and the fact he was wearing a helmet may have saved him.
Rescue Co-ordination Centre search and rescue mission co-ordinator Dave Wilson said the man, in his 60s, required "some serious medical attention".
He was flown off the mountain by helicopter to Queenstown Hospital and then to Dunedin Hospital.
The centre was alerted at about 11am by a personal locator beacon carried by the party of four climbers, and a Helicopter Line helicopter flew the rescue team to the scene of the fall, near the Gillespie Pass at an altitude of about 1300m.
Const. Andrew said the rescue was made easier by the actions of others in the party.
Aware a helicopter would be on the way, one member of the party remained at a higher altitude with bright clothing.
He was spotted from the helicopter and the rescue went reasonably smoothly after that.
The four male climbers are understood to have all been New Zealanders ranging in age from about 20.
Mr Wilson said the incident showed the value of carrying a distress beacon registered on the website www.beacons.org.nz "Because it was registered, we were quickly able to establish from the party's emergency contact the make-up of the party and their climbing intentions.
"It has enabled the injured person to get medical attention as quickly as possible."
* Read the Herald's live news blog here.