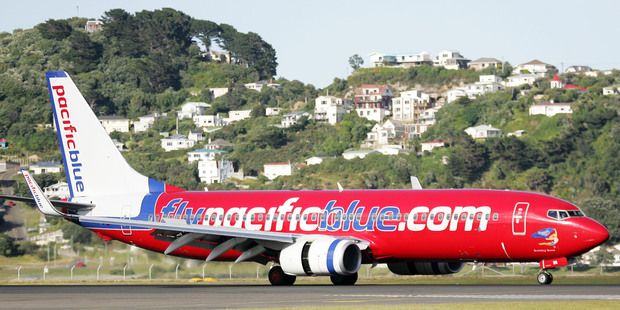 Not for no reason do airline pilots regularly finish near the top of polls that record the trust people place in various professions. We, with the many others on every flight we take, need to believe their expertise will deliver us safely to our destination. Our lives may depend on them and, as with doctors and firefighters, we need to be able to trust them.
Our actual experience of them may be secondary in that respect, but it will come to occupy centre-stage if we believe pilots are breaching the rules laid down in the interests of passenger safety by their airline and civil aviation officials.
It is in this context that the conviction of Pacific Blue captain Roderick Gunn should be viewed. He has been fined $5100 for carelessly operating a Sydney-bound aircraft, unnecessarily endangering the 70 people on board, when taking off from Queenstown in June 2010. He must also undergo extensive training and is barred from flying in and out of Queenstown as a pilot in command for a year.
District Court judge Kevin Phillips found that Captain Gunn "ran a high risk" in taking off 11 minutes after what the rules stipulated was safe at that time of the year. He was also flying in cloud below the minimum altitude and in a heavy crosswind. A "reasonable, prudent pilot" would not have done this, said the judge.
Captain Gunn's response to the charges brought by the Civil Aviation Authority was remarkably blase. He had regarded flying that day as "just another day in the office". Worse, he told the court that the ultimate assessment for a takeoff was for the pilot and his judgment. That was akin to saying any rules could be interpreted by pilots as they chose. It is not a tenable attitude. In any profession, allowing people to employ varying limits as they wish is a prescription for trouble.
Worryingly, Captain Gunn's view was supported by another airline captain who appeared as an expert witness. He said that, despite confusion among the crew, the conditions and cockpit warnings, he would have put his daughter on that flight. More convincing evidence, however, came from those in the Queenstown control tower. Their comments about the pilot and his takeoff included "Oh, he's screwed" and "How big are his gonads?" Those are the people who oversee operations every day from the airport and most appreciate the dangers posed by its short runway, the hazardous terrain and frequent severe turbulence.
Judge Phillips said he worried peer pressure or operator pressure to keep aircraft moving may have played a part in persuading Captain Gunn to take off. If so, that is equally alarming for the safety of passengers. On no account should that be compromised.
That is why an Air New Zealand pilot did the right thing when he reported he had fallen into a deep sleep twice while at the controls of a flight between London and Los Angeles. He blamed this on not being able to rest properly in a London hotel because of poor air-conditioning.
In that case, Air New Zealand said instances of crew fatigue should be self-reported in the interests of safety. The latter, indeed, far outweighs the potential blow to an airline's reputation from a Civil Aviation Authority report. It should ensure the problem is rectified as soon as possible.
Similarly, all pilots should acknowledge the lessons of Captain Gunn's conviction, and all airlines should dwell on Judge Phillips' concerns about the pressure on pilots. Safety rules are not there to be bent at a whim. Trust in airline pilots will soon dwindle if they are.