About 800,000cu m of earth to be shifted as tunnels created.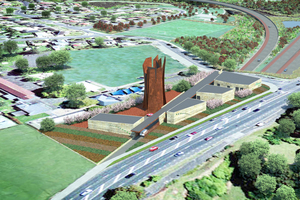 Q. Where will the debris from the Waterview tunnel be dumped?
John Powell, Pukekohe.
The spoil will be sent to the old Winstone quarry at Wiri. It is anticipated that the quarry will be large enough to take about 800,000 cu m of earth - equivalent to 320 Olympic-size swimming pools - that will be removed from both tunnels. Any overflow will be sent to the Three Kings quarry.
Q. We received only two new Telecom directories for 2013. The most important - White Pages Auckland residential A-Z directory - was missing. There are many people who do not have access to a computer to search for a telephone number and would like to know if it is possible to obtain a copy.
Leslye Watts, Golflands, Auckland.
Yellow [Pages] is this year piloting an opt-in system for Aucklanders who want a printed copy of the White Pages. Those who do will need to order a copy, which will be delivered in June. They can do this on the Yellow website, by calling 0800 803 803 or by writing to White Pages Book Orders.
Reportedly only 41 per cent of people 15 years and over use the printed White Pages. CEO Chris Armistead said if only 30 per cent of Aucklanders ordered the White Pages residential book this year, that would save about 770 tonnes of paper and 32 truck trips from Masterton to Auckland for distribution.
Q. I'd like to know whether the road rule stating that one may not park on the right-hand side of the road except in a one-way street still holds. I live out in Flat Bush which is a newish suburb with a lot of people new to the country. I know we have a law where it is illegal to park on the "wrong" side of the road, but many other countries allow this.
Dave Parker, Flat Bush.
According to the Road Code, last updated in October 2012, this rule still holds. Policing such rules, especially in the suburbs, would require more staff than the council and other law enforcement bodies could afford. Where such parking causes an obstruction or poses a danger, steps to deter them will be taken.
Q. I hear a lot of complaints that bus lane fines are too common. But what about cycle lane fines? Do cars, trucks and especially buses get fined for driving or parking in cycle lanes? As a cyclist, it would help me a lot on Mt Albert Rd. The worst examples are inevitably at the Sandringham Rd intersection.
John Groynk, Mt Albert.
The good old Road Code states very clearly that you must not (note: must not, not 'may not') stop or park your vehicle in a cycle lane. As far as it is possible, this rule is enforced, but see answer above.