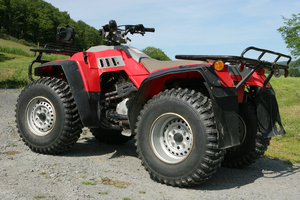 A Northland farmer who campaigned for tractor safety says now is the time to adopt similar procedures to prevent further quad bike deaths.
Merv Rusk made the comments during an inquest into the death of his friend, neighbour and fellow farmer John Roderick McInnes, also known as Jack.
Mr McInnes died on September 25, 2010, when the quad bike he was using to spray carrot weed on a leased block of land rolled on him at Marua, 20km south-east of Whangarei.
He was riding on a hillside across rutted cow tracks when it rolled 180 degrees and pinned him face-down.
The inquest is the first in a string related to quad bike fatalities to be heard by Northland coroner Brandt Shortland over the next six weeks. Three relate to Northland farmers who died within eight weeks of one another.
Yesterday Mr Rusk said he had previously been a member of the Young Farmers Club in the 1960s and successfully pushed for safety frames to be made compulsory on new tractors. As a result injuries and fatalities involving tractors dropped from about 30-40 a year to currently about three.
He suggested suppliers of new quad bikes should be required to sell machines with approved rollover protection fitted.
He also said quad bikes should be tested by an independent authority and bikes should have safety ratings that were available to consumers similar to that for motor vehicles.
Mr Rusk told the inquest of how Hayley Brown, Mr McInnes' daughter, had come to his house to call for an ambulance about 8.30pm.
Her husband Michael Brown had found Mr McInnes trapped beneath a Yamaha Big Bear quad bike with a rear mounted 100 litre spray unit with boom that extended either side of the bike. He was lying facedown, facing up the hill.
Mr Rusk rushed to the paddock, checked for a pulse then started CPR with the help of Mr Brown.
"Jack was a friend of mine and I didn't want to give up on him."
Mr McInnes died before the ambulance arrived.
"I was totally exhausted so I lay on the hillside, keeping Jack company and having a big think."
He was devastated by the death and said after more than 50 years' farming he had lost nine mates in crashes and accidents - five on tractors, one with a shot gun, two felling trees and now one on a quad bike.
Hayley Brown told the court she believed her father had been off the bike and lost his footing when it rolled on him, given the position he was found lying in.
Ministry of Business Innovation and Employment inspector Phillip Bailey went to the scene and said the terrain was a contributing factor in the fatality.
Serious crash investigator Warren Bunn noted the spray unit enveloped the rider and made it difficult to get on and off.
In a report he stated the rider was "cocooned" and he saw problems with getting on and off in an emergency.
During a two-day inquest in Auckland next month, Mr Shortland said he would hear from a number of experts, including academics, government representatives, safety officials and those in the rural sector.
He would then make recommendations.
"The issue around quad bike safety is very complex,'' he said.
The inquest into the death Arapohue farmer and builder Carlos Mendoza, 52, takes place today in Whangarei, followed by Suzanne Claudia Ferguson, 62, tomorrow.
Mrs Ferguson was towing a trailer of haylage when her quad bike is thought to have rolled on steep terrain, pinning her underneath on August 9, 2010, at a Gammon Rd farm near Awarua, about 20km south of Kaikohe.
Mr Mendoza died in a quad bike accident on September 16 near Dargaville.
The Chief Coroner last year raised concerns about the number of quad bike fatalities. He said previously that the inquests were being heard together to determine if there was anything in common among the deaths that could then be used to improve quad bike safety.
Last year the Ministry of Business Innovation and Employment launched a safety campaign after several quad-bike deaths across the country.
For more articles from this region, go to Northern Advocate