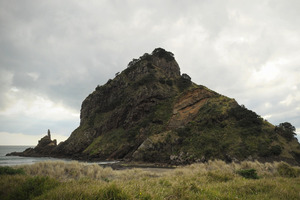 A 30-year-old man, believed to be on a family holiday, drowned at Piha beach last evening.
The man was found unconscious in shallow waters and was unable to be revived by emergency services.
Auckland Police Inspector Peter Raynes said the man got into trouble while swimming near Lion Rock about 6.30pm.
"A 30-year-old male got into difficulty while swimming and was pulled out of the water," he said. "He was found unconscious and not breathing."
St John Ambulance and Westpac Rescue Helicopter rushed to the the scene but were unable to revive the man.
"They got there pretty quickly but CPR was unsuccessful," he said.
According to Facebook posts, the man was on a family vacation.
Ben Fewtrell said he was at the beach taking photographs when he saw the tragedy unfold.
"It is very sad, they were on a family vacation and were just swimming at the beach.
The worst thing was watching them work so hard to revive him but no luck."
A woman was seen being comforted, and another group of people appeared to be "waiting for their friend to come back to them", Steve Knox told the Herald.
He said conditions had been dangerous at the beach.
"I had just got out of the water because the tide was coming in and it got a little bit dangerous, when I saw the helicopter come in.
"I'm going out virtually every day as the weather has been so fine and pulling people out of holes and rips. It's really dangerous out there and I would just like to warn people."