Police again set 4km/h speed limit tolerance and want drivers to pay attention as they set out on holiday.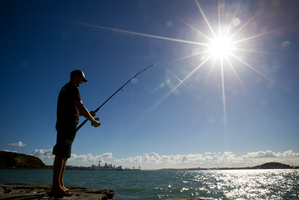 Police are challenging drivers to achieve another zero-death road toll this Easter as New Zealanders take advantage of their last holiday weekend before winter.
A reduced tolerance by "highly visible" police patrols of just 4km/h over speed limits will be in force to remind holiday-makers not to let continuing fine weather distract them from safe driving.
National road policing manager Superintendent Carey Griffiths says the toll of zero last Easter showed "we all can make a very real difference by collectively watching our speed, wearing our seatbelts, not driving drunk, and maintaining our concentration.
"We'd love to see a repeat of that zero statistic this holiday weekend and ask that everyone does their bit."
Although rain is picked for the West Coast, the MetService considers it unlikely to reach the North Island.
"The forecast is good for holiday-makers over Easter but it is probably not that great for farmers," meteorologist John Law said.
Although last Easter was the first public holiday since records began in 1956 with a zero road toll, the police are mindful of a sobering seven deaths over Queen's Birthday weekend.
And despite no Easter road deaths last time, 25 people suffered serious injuries in crashes and 110 others were left nursing cuts and bruises.
That compares with five deaths and 202 injuries over Easter in 2011, and 12 deaths and 231 injuries in 2010 - the worst tally since 1991.
Transport Agency regional director Stephen Town said seven people have died on Auckland and Northland roads over Easter weekends since 2008, and 185 were injured.
"The trend in both regions shows a welcome decline in fatalities and injuries, but we need to be aware that the risk of a crash does increase when there is more traffic and congestion," he said.
"Driver distraction, speed, alcohol, fatigue and unsound vehicles - they're all avoidable killers."
The agency expects heavy traffic on Auckland's Northern Gateway toll road, which hosted almost 90,000 vehicle trips from Thursday to Monday last Easter, and is encouraging drivers to avoid queuing at kiosks by paying online at www.tollroad.govt.nz.
Non-emergency highway maintenance will be suspended over Easter, but drivers should avoid several sites around Auckland where the Transport Agency and Auckland Transport plan major road works.
Rail services will also halt throughout the weekend to allow electrification and other track work, but buses will replace trains from Saturday to Monday.
AA Insurance warns of holiday parking surprises
People rushing to stock up on Easter eggs before shops shut for Good Friday should be especially wary nosing in and out of car parks.
AA Insurance warns that Easter has overtaken Christmas as the time of year when parked vehicles are most likely to be damaged.
The company last year recorded its highest number of daily claims for parked vehicles from the Thursday before Easter, surpassing the pre-Christmas rush for the first time. That was followed by a fall on Good Friday, when shops are closed, but by another spike after they reopened the next day.
Of 6500 claims lodged with AA last year for damage to parked vehicles, 26 were for prangs on the day before Easter and 25 on the Saturday, compared with 18 on Christmas Eve.
AA Insurance customer relations head Suzanne Wolton said the average cost of repairs to vehicles damaged in car parks ran to about $1500.
Most prangs occurred while cars were reversing out of parking spaces, often when another was doing so at the same time, crashing into the first.
Other common accidents involved people opening car doors as other vehicles were parking beside them.
Ms Wolton said the responsibility in such cases was on the driver of the parked car, although insurance policies covered most of the repair cost, regardless of fault.
"It sounds obvious, but anyone getting in or out of a car must make sure the coast is clear before opening the door," she said.
In an AA survey in late 2011, 70 per cent of 3477 responding policy holders reported damage to their parked vehicles. Of those suffering damage, 89.6 per cent said they were left with no details of the offenders.
Trading reminder
Retailers are being told to comply with strict trading restrictions over the Easter weekend or risk prosecution.
The Ministry for Business, Innovation and Employment (MBIE) said all shops must close their doors on Good Friday and Easter Sunday, under the The Shop Trading Hours Repeal Act 1990.
There are some exemptions - such as pharmacies, duty-free stores and real estate agencies - which are allowed to remain open so certain types of essential services are still available.
Cafes, bars and restaurants are also allowed to open for business as long as they sell only prepared or cooked food that is ready to be eaten immediately.
MBIE also issued a reminder to employees about their entitlements. Good Friday and Easter Monday are public holidays which means people who normally work on these days are entitled to a paid day off.
If employees must work, they are entitled to time-and-a-half for hours worked and an alternative holiday if the day is an otherwise working day for the employee.
Easter Sunday is not a public holiday.
Last year, The Department of Labour visited 64 shops around the country over the Easter weekend, based on complaints, those warned or prosecuted the previous year, and those overtly advertising that they would open.
Of the 64 shops visited by inspectors, 41 were found to be open in breach of the law.